Elegance, timeless and classic are just a few of the words that describe Eleganza. Established in 2002, the company believes in changing the way that people think about modern styles and designs. Since opening its doors, the company has become one of the largest producers and distributors of tile in the country. Though the company focuses on porcelain and glass tile, it also offers wood tile and other designs that shoppers love. When it's time to redo your bathroom, you'll want to choose Eleganza bathroom tiles.
Contemporary Tiles
Though Eleganza is responsible for dozens of different tile types and styles, its contemporary styles are more popular with those updating their bathrooms. These styles have a decidedly modern look that will make even the oldest of bathrooms look like something recently constructed. The Axis design uses a porcelain base, but looks just like fabric, and you might find yourself wanting to rub your hands across the surface. The Metropolis pattern, with its linear design, and the Layers design, which looks like wood, are a few other options for your bathroom.
Glass Tiles
Close your eyes and imagine that you're in an elegant spa. The odds are good that when you pictured that spa, you imagined glass tiles on the walls and floor. Eleganza bathroom tiles come in several glass designs that will make your bathroom feel like your own personal spa. Glass Ocean uses the same colors of the water, including pale blues, greens, soft browns and grays, in a unique cross pattern that will make people look twice when they see your bathroom. Another fun option is the Glass Metallic, which have a slightly funky edge. Available in bronze, silver or clear glass, these mosaic tiles catch the light and create a great atmosphere in your bathroom. If you prefer darker colors, Glass Arizona comes in warmer shades of gray, black and brown, and you can choose between traditional mosaic patterns and patterns with thinner pieces of tile.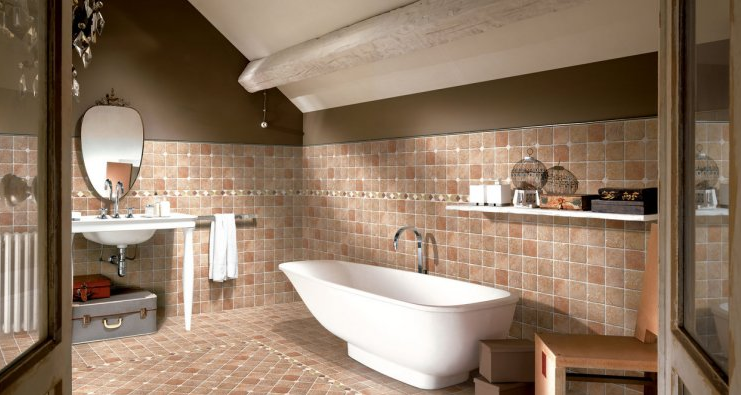 Timeless Tiles
The classics remain beautiful and elegant for years, and that is how Eleganza feels about its Timeless tiles. Calcutta White is a type of pale white tile that features sharp gray veins running through the stone, while Cappuccino Beige uses a warm brown shade all over each tile. Those tiles will add an elegant touch to your bathroom. Some homeowners also enjoy the color and design of the Gemstone Marfil tiles, which have a classic design that resembles marble but is better suited for a bathroom than that type of stone.
Traditional Tiles
Eleganza bathroom tiles also include a variety of traditional designs, including Sienna and New Crystal. Sienna comes in four colors and uses special technology to create a travertine look on top of porcelain tiles. New Crystal is a type of highly polished porcelain tile that comes in two color options.
With the elegant tiles available from Eleganza, you can turn your bathroom into your own personal paradise. Choose glass, porcelain or ceramic tiles in a shade that soothes your senses and makes you feel a little more peaceful.