As the earth begins to warm up, people are eager to get back outside. With the recent change of the social climate, many are finding they are more comfortable enjoying the outdoors from the sanctuary of their home. Barbeques, pool days, and family get-togethers have made a recent comeback, and everyone is loving it!
With all this new traffic taking place in the backyard, utilizing a durable product such as porcelain pavers can elevate the look of your space drastically. From wood-looks to marble-looks, read on to see the 2CM porcelain collections Tiles Direct has to offer to create your outdoor oasis.
MOOD WOOD - Milestone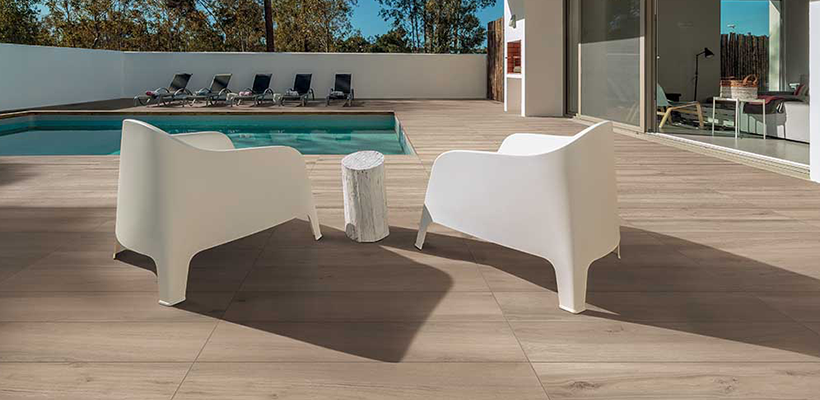 Featured Product: Mood Wood Honey Grip 2CM Porcelain Paver 12x48.
The Mood Wood 2CM Paver collection is an extension of the popular Mood Wood collection from Milestone. Mood Wood creates unique and inviting spaces, offering the warmth of natural wood in a durable paver format.
The average lifespan of a wooden deck is typically 10 to 15 years. With a wood-look porcelain paver, the lifespan can last an upward of 50 years! Mood Wood is stain and scratch resistant, available in three popular wood colors to fit a large range of design styles. Mood Wood is available in a 12x24 paver for installation on pool decks, patios, walkways, and more.
FRONTIER20 MICHELANGELO - Landmark Ceramics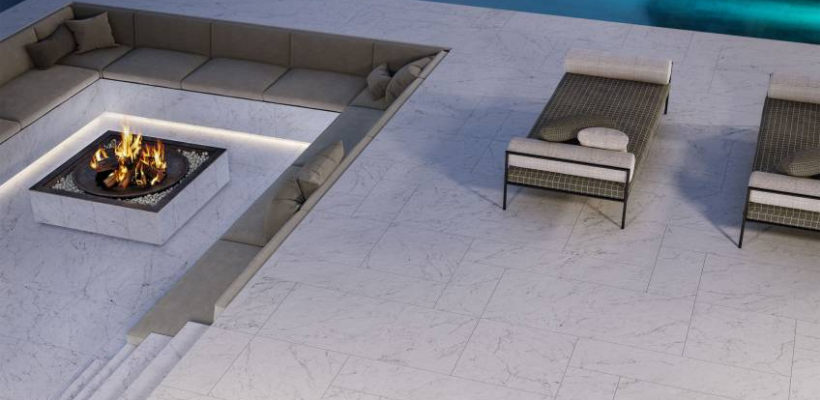 Featured Product: Frontier20 Michelangelo Extra White Grip Pavers.
For those looking to create an oasis of elegance, the Frontier 20 Michelangelo 2CM Paver collection by Landmark Ceramics features an authentic Carrara marble-look in a durable 2CM thick porcelain paver. With sharp gray veining throughout, each paver will be unique for a truly one-of-a-kind design.
With porcelain pavers, there is no sealing required after install. Using a natural marble would require sealing the product every 2-3 years with continuous maintenance. Porcelain pavers will also not be impacted by sun rays and thanks to its 20mm thickness, will not crack and chip in outdoor applications where as other materials such as marble would fall short.
A complete collection of pool trim, stair trim, and more, this outdoor Carrara porcelain will add a refined touch to any outdoor project.
CHAMONIX - Del Conca USA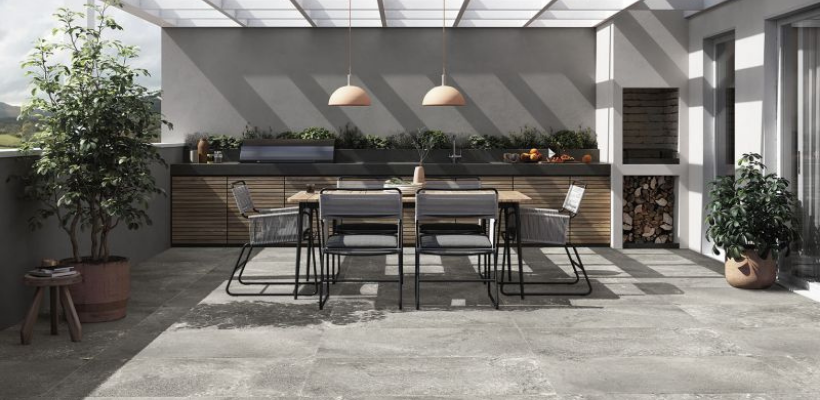 Featured Product: Chamonix Gray Grip 2CM Paver.
For those looking for rustic charm, the Chamonix collection from Del Conca USA is the perfect design-focused solution for exterior installations. Rich in meticulous fragments of various stones, this 2CM porcelain stoneware is ideal for creating outdoor spaces that are both aesthetically pleasing and low maintenance.
Chamonix adds a crisp, timeless feel to exteriors and with a coordinating pool coping, can have the beauty taken to the pool!
STONES DU MONDE - Pastorelli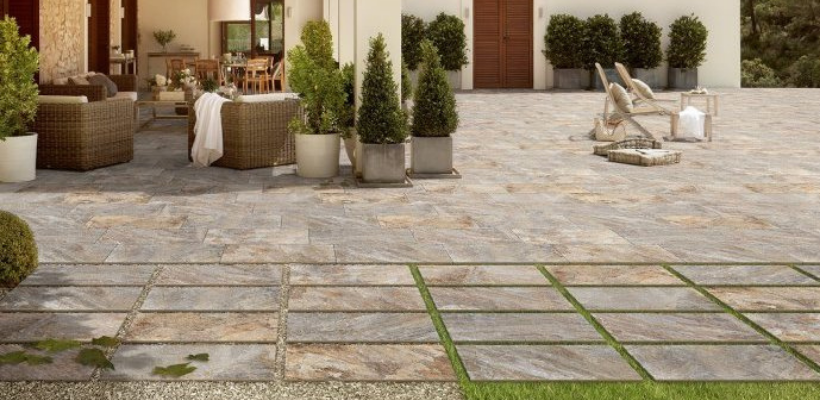 Featured Product: Stones Du Monde Ardesia Mix Grip Paver 16x32.
Colors reminiscent of true sandstone, the Stones Du Monde 2CM Paver collection by Pastorelli is the ultimate backyard steppingstone! This porcelain tile makes for the perfect outdoor addition for pathways, walkways, islands, or borders to bring distinction to your outdoor spaces. The natural stone effect is underlined by irregular edges that add to its authentic stone feel.
Available in a common 16x32 format with a coordinating 15x32 pool coping, the gentle motions from the soft veining of the Stones Du Monde collection add a nature inspired beauty of natural stone with none of the maintenance.
WHY CHOOSE PORCELAIN TILES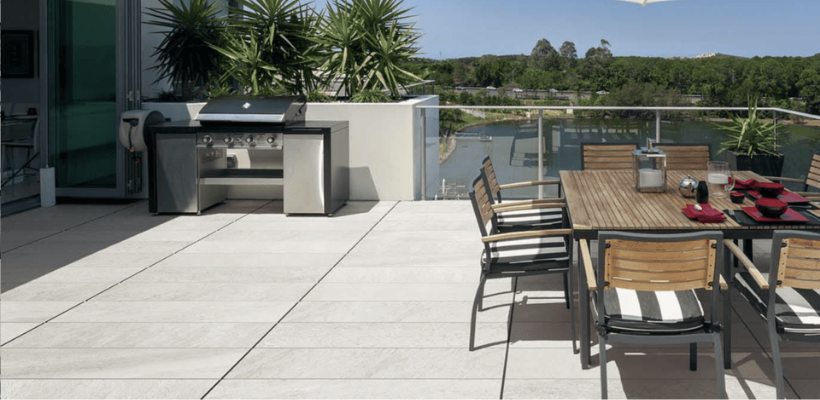 Featured Product: Quartz White Grip 2CM Paver 24x48.
With so many colors, sizes, and styles to choose from, porcelain is one of the most versatile and reliable materials to select for your exterior projects. 8mm or 10mm porcelain tile options are well suited for interior spaces, while a thicker, more durable 2CM paver can withstand the outdoor elements such as extreme weather and foot traffic.
Create stunning outdoor kitchens, patios, pool decks, driveways and more! To view all of Tiles Direct's porcelain paver options to get started on your outdoor paradise, click here. Follow Tiles Direct on Instagram, Twitter, Facebook, and Pinterest for the latest tips and trends on all things tile.