There are many ways to add interest to your interiors, and one of the most noteworthy is by adding pattern and texture to walls using three-dimensional tile! 3D tile is a great substitution to wallpapers and paints, allowing for a vast array of design styles, colors, and more!
Standard paint only lasts on average 15 years, with wallpaper having an even shorter lifespan of 5 – 10 years. Avoid the constant upkeep of your interiors by installing porcelain and ceramic three-dimensional tile instead!
Read on as Tiles Direct highlights some of our favorite and trendiest 3D tile products.
Gleeze Collection - Ragno USA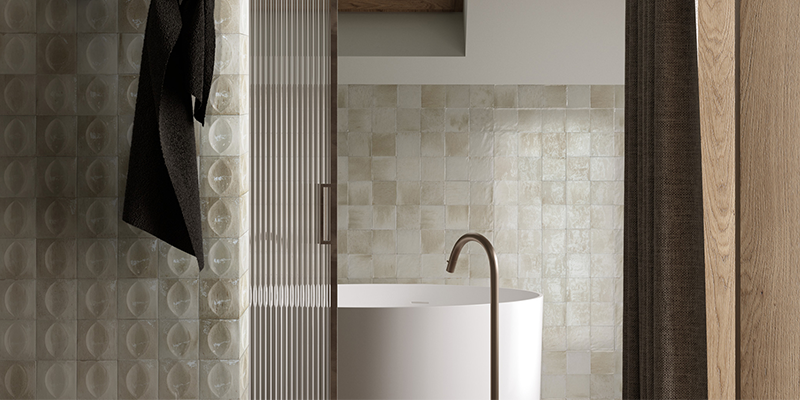 Featured Wall Tile: Gleeze Beige Glossy Porcelain Struttura Uovo 3D Deco 4x4 & Gleeze Beige Glossy Porcelain 4x4.
Sharp colors, high-gloss surfaces and unique textures evoke the aesthetics and craftsmanship of a handmade product in the Gleeze collection from Ragno USA. This comforting porcelain wall tile collection features both concave and convex three-dimensional options with coordinating subway tiles. Mix and match between styles to create one-of-a kind designs.
The rustic color palette of this collection, ranging from soft beiges to vibrant greens, gives this porcelain stoneware a distinctive worn look like that brings focus to interior and exterior walls alike.
Outfit Collection - Settecento Ceramiche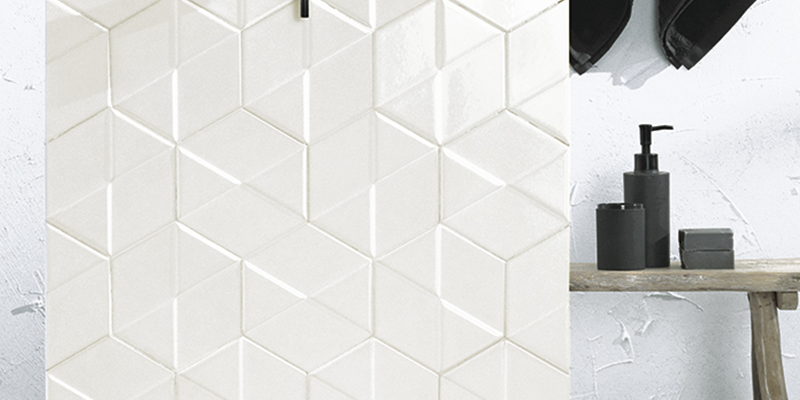 Featured Wall Tile: Outfit Matte White Hexagon 6x7.
The Outfit collection from Settecento Ceramiche is a double-fired, white-body ceramic wall tile characterized by bold color and dimensional surface levels. The bright color palette and glossy surface give this ceramic wall tile series an elevated appearance, with light manipulating its look throughout the day.
Available in both a 3x12 brick and 6x7 hexagon formats, Outfit creates textured geometrical surfaces influenced by light for vertical interior applications.
4D Collection - Marca Corona
Featured Wall Tile: 4D Blue Chevron Matte 16x32.
If the name hadn't given it away, one collection with dimensional surfaces being the forefront of the product is the 4D collection from Marca Corona. This tile collection combines the latest 3D design trend with metal inserts, given it that fourth layer of dimension. The result is a truly eccentric design style that is as durable as it is alluring.
With white and deep blue color options, 4D creates calming designs fit for royalty.
Linea Collection - Anatolia Tile & Stone
Featured Wall Tile: Linea Prizmatic 12x24 White Sculpted Glossy Rectified Wall Tile.
The soft curving form of the Linea collection by Anatolia Tile & Stone evokes a sleek, modern simplicity that is refined and almost aerodynamic. Linea's design in a striking three-dimensional display contradicts the standard perception of ceramic tile, creating the illusion of constant movement. The nature-inspired patterns offer a calm and relaxing atmosphere.
Linea is perfect for those who are still seeking the simplicity of a bright white tile, but wanting to add subtle depth.
Multitude Collection - Daltile
Featured Shower Tile: Multitude Urban Grey Wave Satin Ceramic 12x24. Featured Wall Tile: Multitude Origami White Hexagon Satin Ceramic 12x24.
A subtle finish and pronounced pattern give the Multitude ceramic tile collection from Daltile a different look at every glance. Rich colors and a 3-D pinstriped graphic that features flat, hexagonal, and wave patterns add depth and character to any interior wall application.
Whether it be a backsplash, shower installation, accent wall, or entire home, 3D wall choice has the power to keep a design evergreen. Choosing a durable material such as ceramic and porcelain tile also provides comfort in knowing that the product will last for years to come, with little maintenance.
For more design trends and tricks, follow Tiles Direct Instagram, Twitter, Facebook, and Pinterest for the most up-to-date design trends and products.