Your kitchen is the center of your entire home. It's the place where you gather together for family dinners, where you entertain your friends and where you host holiday parties. If you're like most people, you probably even find yourself doing work on your kitchen table and using the room for dozens of other activities throughout the week. When you realize that the space looks a little old or outdated, it's time to think about replacing the tiles in the room. With Adex kitchen tiles, you have dozens of choices and options.
Add a New Backsplash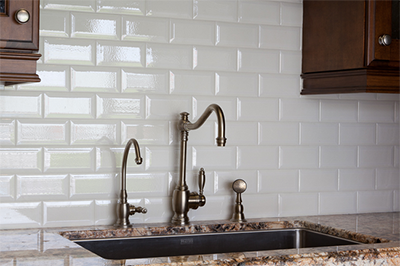 A backsplash has a number of uses in your kitchen, but protecting the walls is one of its most important uses. Have you ever watched in horror as grease or hot water splashed out of a pan and landed on the wall behind your stove? You probably know how much time it takes to clean away that grease or water, and you probably know that hot grease can stain your paint or wallpaper. Adding a fun backsplash protects that wall and reduces the amount of time you spend cleaning your walls. The Hampton line of tiles from Adex has that clean and classic look you want. These Adex kitchen tiles come in several shades to match your kitchen too. Olive is a warm and rich shade of green with a hint of brown, while white has a clean and modern look. If you prefer something warmer, opt for the off-white bone color or sand, which has a light brown finish.
Replace the Flooring
Are you tired of stepping on those old and cracked tiles that you installed years ago? Do you live in a house where a previous homeowner picked out a shade of floor tile that you dislike? You'll find several types of Adex tiles that work well on your kitchen floor, but one of the best designs is the Porcelain Mosaic style. While mosaic flooring often features dozens of colors and a combination of larger and smaller pieces, these tiles have a more finished design. Available in bone, celery and white shades, the tiles almost look like brick flooring. You can choose between a flat design, which is perfect for flooring, or a beveled design with raised edges that works better on walls.
Change the Walls
Thanks to Adex kitchen tiles, you no longer need to live with peeling paint, cracked wallpaper or ugly walls. The company's Studio line of tiles have everything you need to create a fun accent wall in your kitchen, and you can even use those tiles to cover every wall in the room. With stamped and molded designs available and a floral pattern, you can mix and match different textures and styles to decorate your walls. Studio tiles come in lighter shades of graystone, bamboo, snow cap, eucalyptus and silver sands, but you'll also find bolder and darker shades of volcanico and timberline. Find the color and styles of Adex tiles that you need for your kitchen here at Tiles Direct.