In honor of World Honeybee Day, Tiles Direct is highlighting one of the most sought-after design trends in the industry today: hexagon tile.
Hexagon tile has been around for centuries, used initially as floor tile. Today, these six-sided tiles have expanded to walls, showers, backsplashes and more! With a plethora of sizes, colors, and finishes to choose from, there are endless styles and designs that can be created from the nature-inspired tile shape.
The best part – honeycomb tiles look great virtually anywhere! Read on as Tiles Direct takes you through some of our favorite and trendiest hexagon tile placement to help get those interior designs buzzing!
1. Hexagon Shower Installation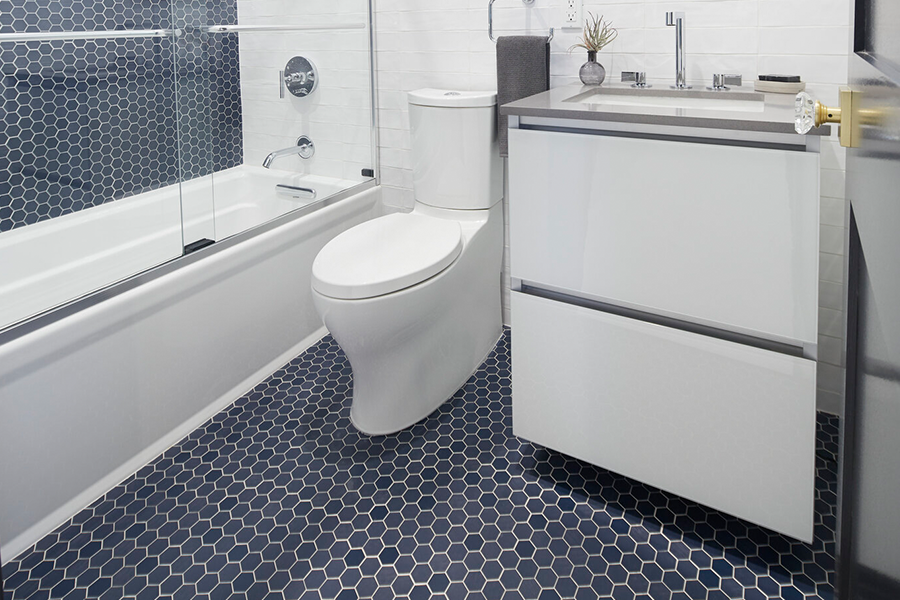 Along with beauty, there are a multitude of functional benefits to installing hexagon tile – especially when considering in the shower. Such as the honeybees build all different sizes of honeycombs, advancements in tile technology have allowed for a large array of sizing and finish options for expansive design possibilities.
Smaller hexagons, most commonly seen in mosaic sheets, are the perfect additions to shower floors and niches as they provide a safer, more slip-resistant surface . This modern guest bathroom utilizes the 12"x12" hexagon mosaic sheets from Terratinta's Hexa Collection for extra grip to this usually wet surface area. The result is an elegant, coastal aesthetic featuring both stability and function!
2. Backsplash Tile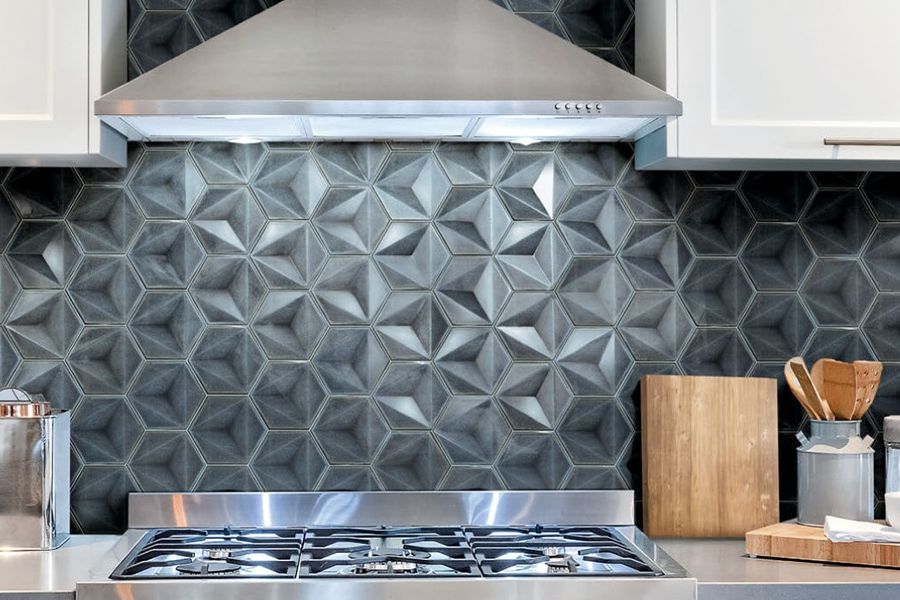 Interior designers are seeing a recent shift in modern backsplash designs. Homeowners are drifting from the classic, traditional subway tile and journeying into a world of bold shapes and color. One of the most prominent shapes being hexagons!
Choosing hexagon tile for your backsplash creates a unique focal point for you and your guests. The Chroma Collection from Settecento Ceramiche does just that, with a 3D triangular glossy surface. These 6"x7" porcelain tiles are easy to clean and will withstand all the heat, spills, and splatters of the kitchen!
3. Floor Tile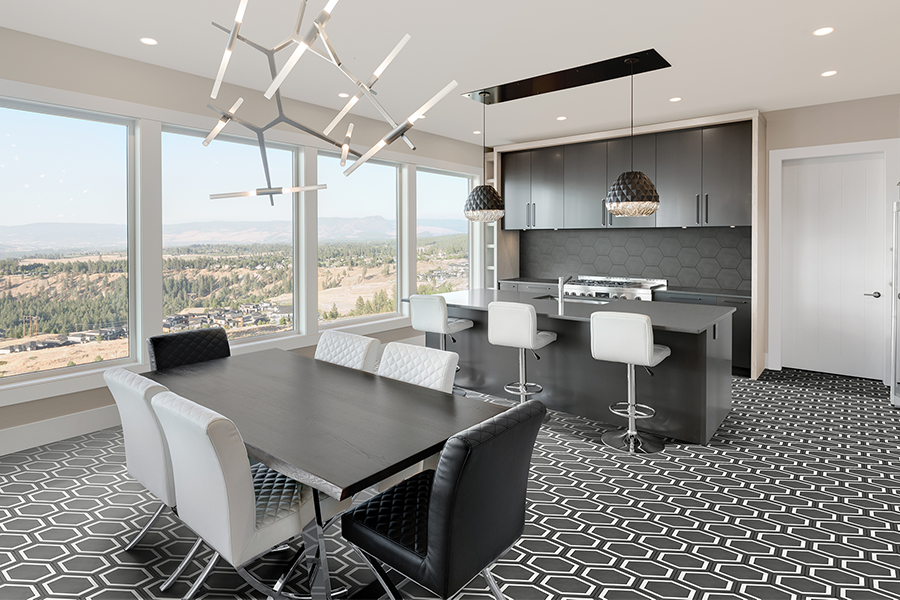 Hexagon tiles were among the most popular of floor tile options in the 1920's and 1930's in bungalows across America. With modern design enhancements, the interior option has only further expanded.
The design of these can be as simple as all white or could contain a complex pattern of different colors and designs. The Form Collection from Anatolia Tile & Stone features both solid and patterned cement-look hexagons in a modern 7"x8" porcelain format.
4. Feature Wall Tile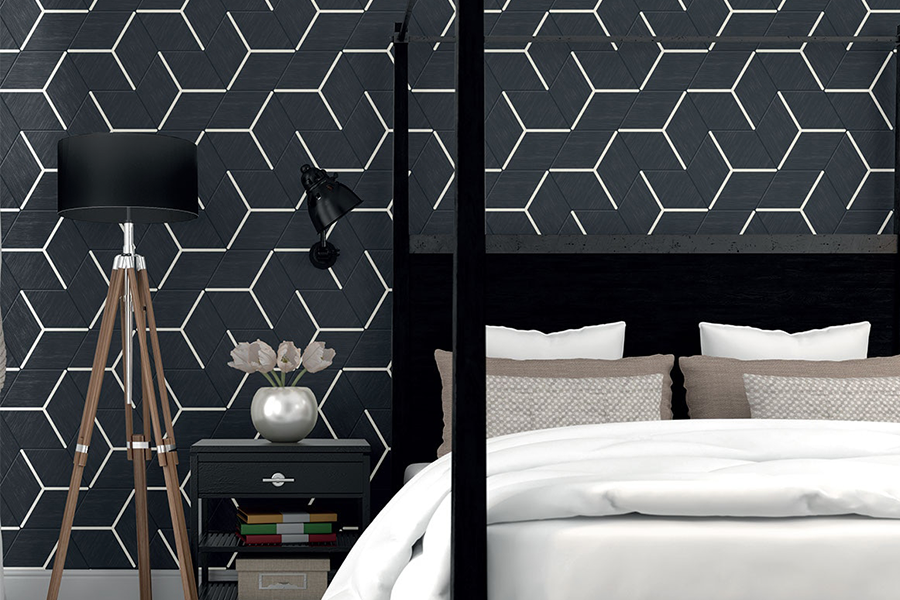 A feature wall is another great place to show off your hexagon tile. These six-sided shapes offer an array of layouts to create unique patterns that fit the aesthetic of your choosing. The designs can be as straightforward as solid, quaint colors or as intricate as striking patterned hexagons.
The Bee Hive Medley Collection from Daltile delivers a mid-sized hexagon bringing visual interest to concrete look monochromatic fields with stunning colors, 3-D graphics, and geometric patterns. Unlike paint or wallpaper, Bee Hive Medley's durable porcelain format is easy to clean, won't hold on to stains and odors, and will last for years to come.
5. Staggered Hexagon Transitions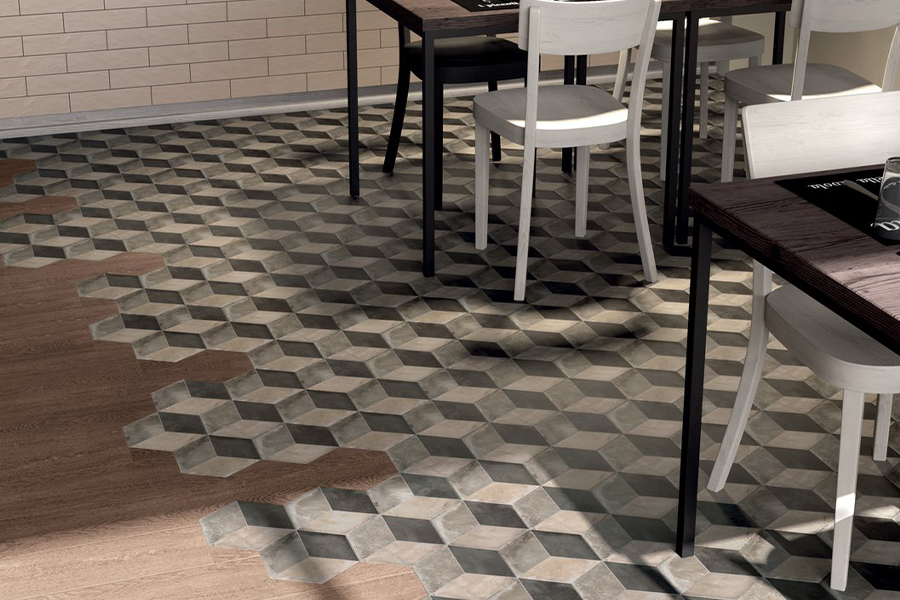 Staggered tile has been all the rave – and hexagon tiles are the prime leaders. Being a relatively new but powerful trend, staggered floor tile designs transition from one tile style to another.
One way to incorporate staggered floor tile into your home is to choose two different tile styles that you like and that complement one another. This coffee cafe combined the look of modern wood with the encaustic craftmanship of the 8" Rombo Deco Hex from the Terra Collection from Marca Corona. The result is an eye-popping three-dimensional design created to impress.
Hexagon tiles, just as they have been around for over a hundred years, will continue to be a source of inspiration in interior designs for years to come. For more information on our tile selections or if you have any questions about which of our options is best for you, call a Tiles Direct Representative at 407-730-0025 or reach out on our social media platforms @TilesDirect_USA and we will be happy to answer your questions.