An important advantage that many interior designers utilize when designing their client's perfect space is understanding and applying color theory to create a desired atmosphere. Colors have the ability to affect more than scenery, they also impact emotions and set the mood of the room.
Blue is a popular color that many interior designers gravitate to when creating a home's color story. Blue is one of the primary colors, and with this, has so much meaning and possible uses behind it. Read on as Tiles Direct highlights all things blue, from meaning to uses, and, of course, the best places to apply it.
The Meaning of Blue
Featured Products: Urban Living Symphony Blue Glossy 3x12, Urban Living Aqua Glossy 3x12, Urban Living Coastal Matte 12x12.
As stated, colors have the impressive ability to affect our moods. When the color blue comes to mind, it can often be affiliated with happiness. The color of clear skies, the ocean, a favorite toy or outfit growing up – all of these can subconsciously influence a person's mood.
Blue, when utilized in interior design, is used as a calming and relaxing color. With a wide range of shades, and depending on which hue is selected, blue can shift the mood of the room. A darker blue will give a more reserved and natural atmosphere. A lighter blue will brighten the room and invite a bubblier, more serene space.
View all of Tiles Direct's blue tile products for a more calming atmosphere.
A Healthier Lifestyle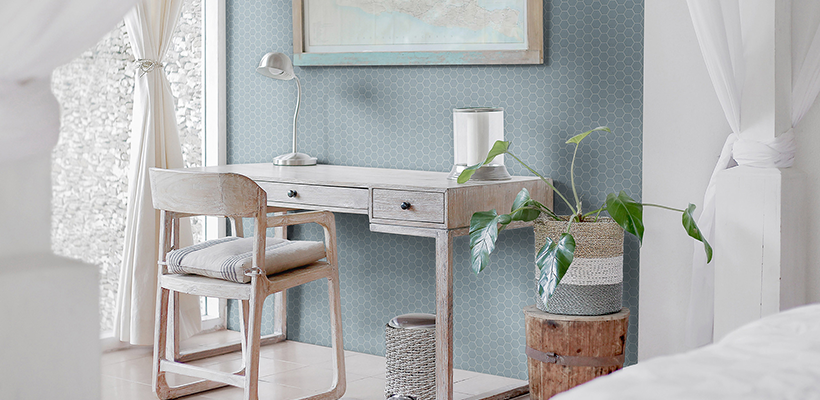 Featured Product: Hexa Azure Mist Matte Porcelain Hexagon Mosaic 12x12.
Believe it or not, the color blue has positive effects on both your mood and physical health. Since blue represents rest, the body can actually begin to produce natural chemicals that are calming, creating feelings of joy.
Invite a soft-toned blue into your bedroom to promote rest and relaxation. With the bedroom being the primary room used to decompress, applying blue to a space can improve both physical and mental health. The Hexa Azure Mist Matte Porcelain Hexagon can be installed on both interior walls and floors to create a soothing feeling wherever desired.
A Color of Versatility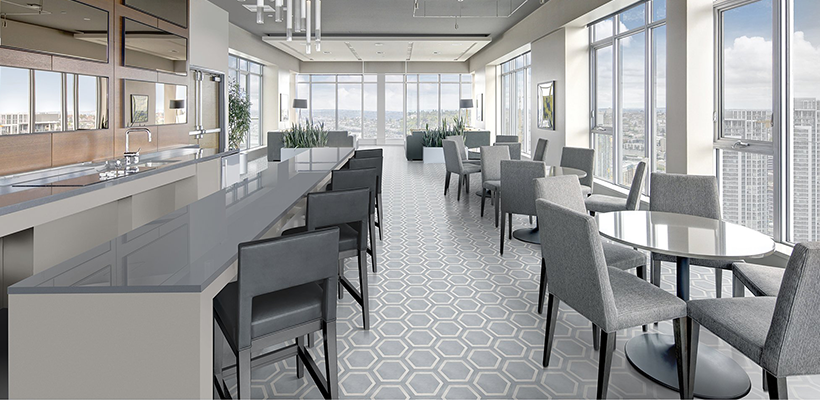 Featured Product: Anatolia Tile & Stone Form Tide Hexagon Frame 7x8.
One of the primary colors, blue is convenient when navigating interiors because it can pair nicely with almost any color! Deciding on your tone of blue also plays an important role in what it may mesh well with. Royal blues work best with bold pinks, yellows, and reds; while baby blues work best with complimentary colors such as whites, golds, and beige hues.
For coastal homes, using a lighter blue will bring a calm and natural element into the home. For a more modern approach, using a deeper blue accessorizing with black, orange, and other bold and vibrant colors to elevate this soothing tone. Whether bringing in other colors in the form of accessories and furniture, or having blue be that "pop of color," there are so many styles that blue will blend into.
Keep in mind that an all-blue atmosphere can feel daunting, so get creative and bring in some of your favorite colors to create a room most suiting to you.
A Fan Favorite
Featured Product: Harmony Columbus Blue Matte Porcelain 6x24.
Statistically speaking, blue is considered the "World's Favorite Color." Multiple studies throughout the years conducted by BBC and the Huffington Post, to name a few, determined through surveys and experiments what the most popular color was globally. Blue was found to be the most popular color across both genders, with men being the dominating vote.
Incorporating blue into interiors will give guests a comforting feeling when visiting, and could very well be their favorite color! The beauty of porcelain tile is it can be installed virtually anywhere throughout the home. Browse all of Tiles Direct's blue porcelain tile here.
For more interior design tips, tricks, and all things tile, follow Tiles Direct on Instagram, Twitter, Facebook, and Pinterest.