What if we told you there was a way to make doing laundry, well, less of a chore? According to a study conducted by the Princeton Neuroscience Institute, working in a less cluttered and more visually appealing space can make us more productive and focused, resulting in completing tasks more efficiently and with less stress. With this in mind, it's no wonder that strategically designed laundry rooms topped the 2019 list of What Home Buyers Really Want.
Tiles Direct is here to help take you out of the basement shadows with these 5 tips for transforming your laundry room into a stylish, functional and productive space.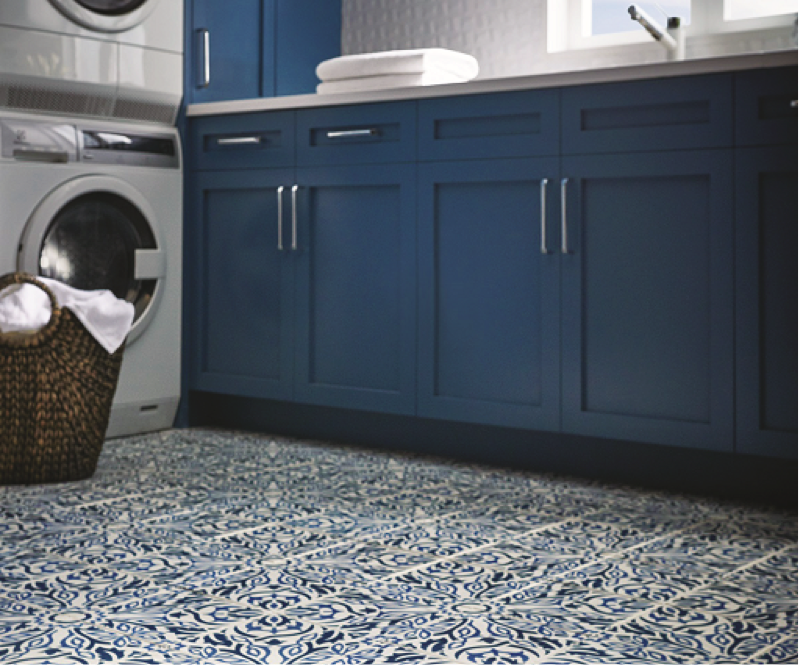 Work With Calming Colors
From the paint on your walls to the tile on your floor, color has a huge impact on your mood, focus and attention span. Shades of blue are typically the go-to color to elicit a sense of calmness but soft grays, whites and mushroom browns are also a great way to inject style into your laundry room without being too over stimulating. Try an easy to clean subway wall tile in a classic white, glossy gray or chic glass format to add a modern, yet timeless finish to the space.
Take Advantage of Floor to Ceiling Wall Space
Laundry rooms traditionally don't account for a lot of a home's square footage – nor should it. Stay organized by making use of every inch of wall space available. Built in cabinetry, pull-down ironing boards and easy to access shelving keeps your room less cluttered and leaves as much floor space as possible for mobility while transporting your laundry. Open shelving above machines is a cost effective option that allows for ease of access, but if keeping shelving organized is a chore in itself then standard two-door kitchen cabinets might be the way to go.
Make Your Space Kid & Pet Friendly
Your new laundry room is the perfect place to store your children's extra sports and craft supplies, or set up a cozy corner for the family pet. With that being said, the space should be spill-proof, kid-proof and pet-proof. Luckily, porcelain tile flooring checks all three of those boxes. Tile is durable, easy to clean and is a completely hypoallergenic flooring option. With the latest inkjet technology porcelain tile can even perfectly mimic you favorite wood, stone or encaustic looks.
Add a Countertop for Your Laundry Station
Laundry room countertops are a gamer-changer. No more clothes piling up on top of machines or losing socks in between in your washer and dryer. If your machines are front-loading, this is a no-brainer. Simply add your countertop of choice over both machines and voilà - you have a place to fold laundry and store detergent (but more importantly, a place for your coffee). Just make sure to leave a few inches of space between your machines and the countertop incase you ever need to move them for repairs.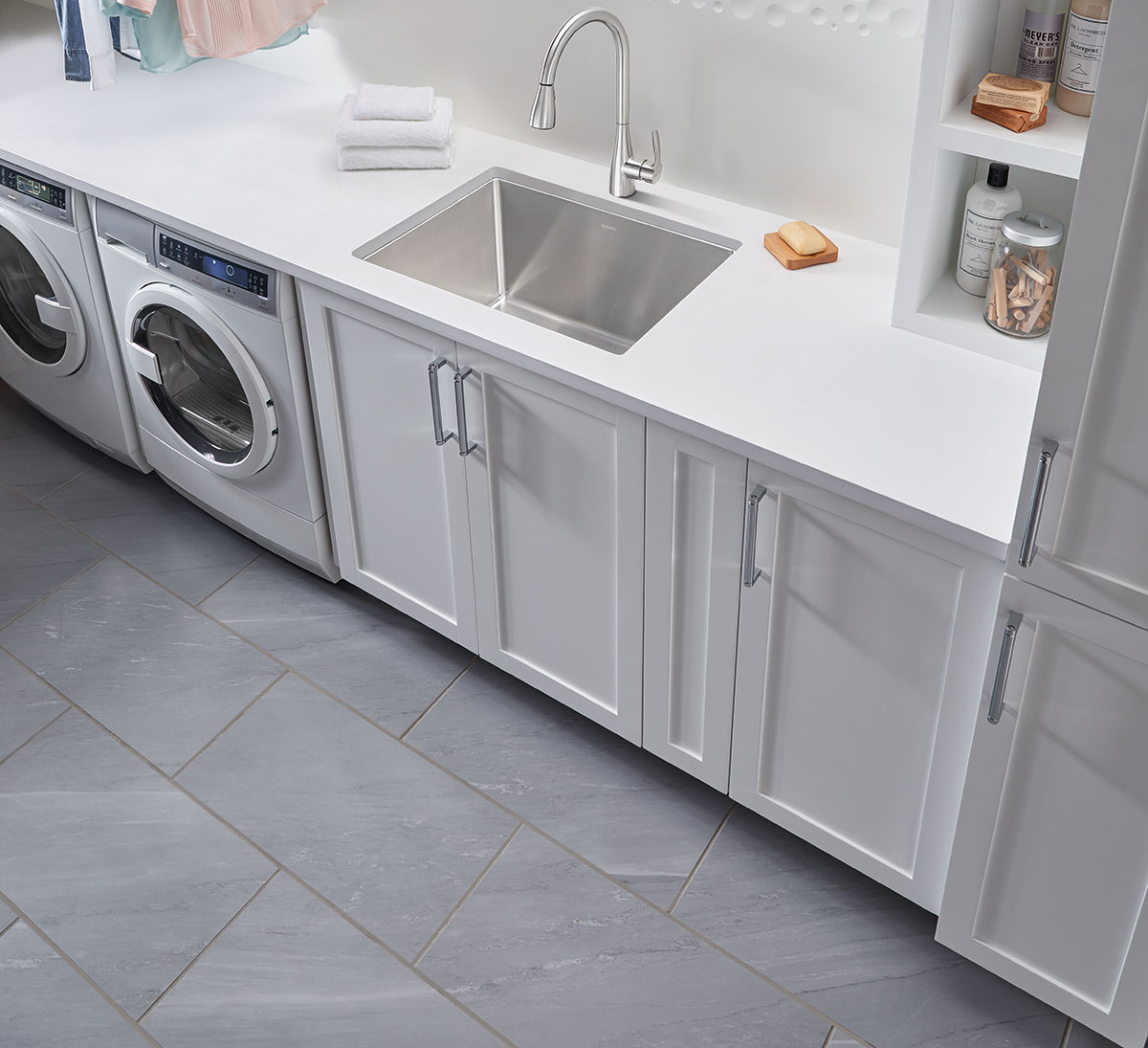 Don't Forget to Add a Sink
Having a sink nearby allows you to easily clean up any messes, remove small stains, rinse out your detergent caps and even wash your delicates without ever needing to leave the room. Whether it be a large farmhouse sink, a traditional undermount or a rectangular vessel - a sink is a must have for any efficient laundry room set-up.
Ready to get shopping? Check out the vast selection of products available from Tiles Direct. For even more home remodel tips and inspiration, follow us on Pinterest, Facebook, Instagram & Twitter.