As sad as it is to see the summer come to a close, there is so much to look forward to in the upcoming season. With autumn comes apple cider, pumpkin spice everything, and the most exhilarating part of all: the changing of the leaves!
Golden yellows, oranges, reds and browns warm up the surrounding environment and make every day vibrant. Not to mention, what would the fall season be without jumping into a pile of colorful leaves? These warm-toned colors provoke feelings of optimism and glee as well as remind us of our happy days as a child.
With so much natural inspiration surrounding us, interior designers often utilize these joyful feelings that these warm tones bring by incorporating them into their designs. Read on to see how the autumn colors will make you "Fall" in love with tile!
Pumpkin Everything – Including Tile!
Featured Wall Tile: Maoilica Pattern Coto 8"x8" Matte from Roca Tile. Featured Floor Tile: Coto 8"x8" Matte from Roca Tile.
The color most associated with the fall season – and for good reason – is orange. Candy corn, jack-o-lanterns, fallen leaves - this spunky color has found its way in almost every autumn reminder around.
Orange is a symbol of joy, warmth, and creativity as well as a plethora of other endearing emotions. When used in interior designs, orange can be an eye-catching statement or used as an accent color throughout. Add some warmth to floors with a deep orange, or create a distinctive backsplash with a more vivacious shade.
Don't forget to add some fall decorations! Small pumpkins, leaves, and pinecones are a fall staple and keep your home smelling fresh and natural! Enjoy as much as you can of this charming season before the frigid winter months begin.
Apple Picking Anyone?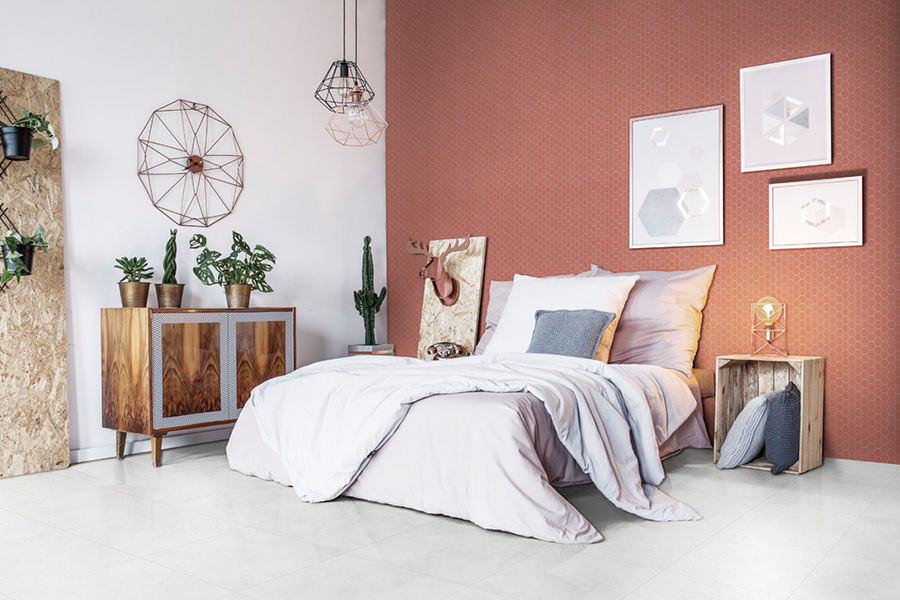 Featured Wall Tile: Hexa Cherry Pie 12"x12" Mosaic Matte from Terratinta Ceramiche.
One of the most favored fall-activities is apple picking. Then all the fun baking that follows! Apple pies, warm apple cider, apple strudel – the possibilities are endless!
Red has been a fan-favorite in modern interior design spaces. With so many shades to choose from, this warm reminder of fall looks great just about anywhere! Use red tile as an accent wall, such as the image featured above using the Hexa collection in Cherry Pie. Incorporating fun furniture pieces with deep or bright reds is also beloved and seen everywhere.
A little secret: use red in the kitchen for an increased appetite!
Golden Yellow Hayrides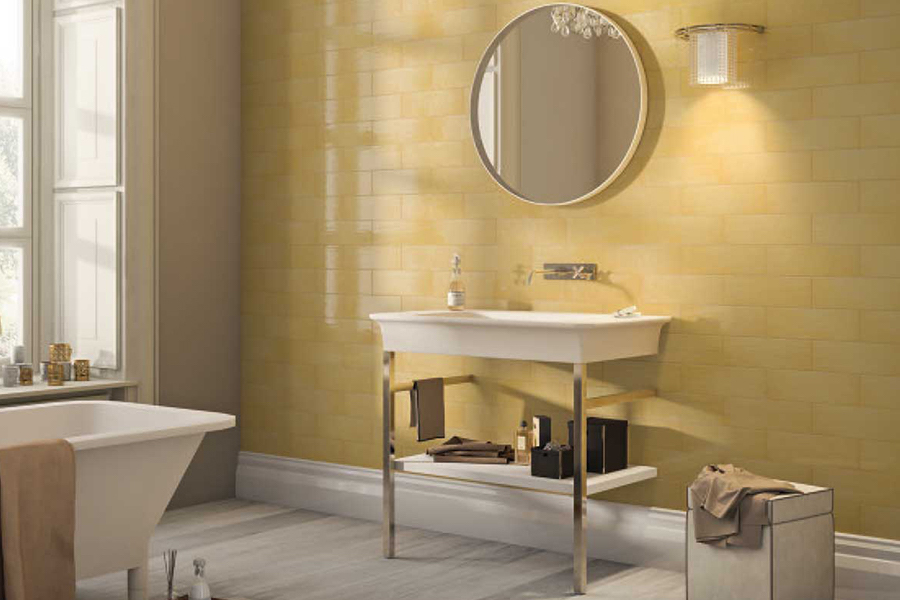 Featured Wall Tile: Maolica Ocra 4"x12" Glossy from Iris Ceramica.
One of the 2021 Colors of the Year that is taking the interior design world by storm is yellow. To name a few - feelings of happiness, sunshine, and excitement are associated with the color yellow. In terms of autumn - hayrides, corn fields, and golden leaves are just some of the many influences of the season.
Incorporating these constant emotions of joy into interior designs promotes a positive living environment. Often used as an accent color, yellow is the perfect choice for highlighting some of the most eye-catching elements in interiors such as backsplashes and niches.
Beautiful Bare Branches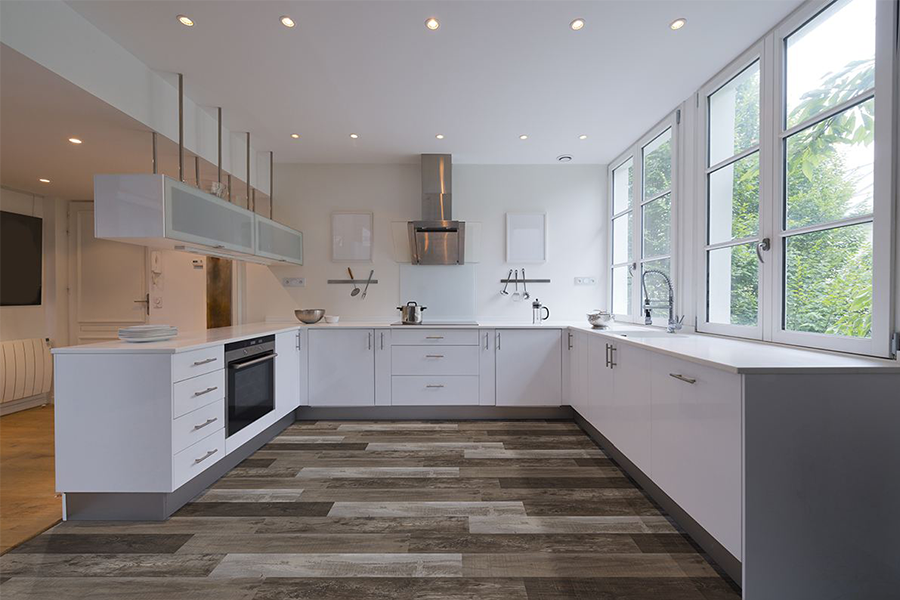 Featured Floor Tile: Cyrus Weathered Brina 7"x48" Matte from MSI Everlife LVT.
Although bare branches symbolize the cold winter months approaching, there is something authentically beautiful about the tones of this peeling bark. Different variations of wood bring a charming, rustic feel – especially when utilized in interiors.
Invite an organic look to interiors with a distressed wood-look floor. Weathered Brina from the Cyrus Luxury Vinyl Tile collection replicates these bare branches bringing both cool and warm tones to coordinate with an array of design aesthetics.
Whether it be luxury vinyl tile or a porcelain wood-look tile, these advanced designs will leave a home feeling warm and inviting for years to come.
Embody that warm autumn glow and all the excitement that follows it year-round into your interiors! Need a bit of guidance in achieving this aesthetic? For more information on our tile selections or if you have any questions about which of our options is best for you, call a Tiles Direct Representative or reach out on Facebook, Pinterest, Instagram, Twitter, and now TikTok and we will be happy to answer your questions.