Pantone, the global color authority for the design community, announced the Pantone Color of the Year for 2021. This selection is made by the Pantone Color Institute, which offers designers, marketers, creators, and brands a chance to work together to build a strong and powerful color presence for the upcoming year.
This year, rather than the Color of the Year being a trend, Pantone chose for it to be a metaphor of hope for the new year ahead. That's why Pantone has chosen two colors to take the stage this 2021: Pantone 17-5104 Ultimate Gray and Pantone 13-0647 Illuminating Yellow. The contrasting pairing was described by Leatrice Eiseman, Executive Director of the Pantone Color Institute, as "a marriage of color conveying a message of strength and hopefulness that is both enduring and uplifting."
Ultimate Gray
Gray is considered a neutral color. In between black and white, there is a shade of gray that complements every hue on the color wheel. Gray adds warmth and depth to a room without being overbearing. This shade can be the focus point of your interior designs, or make for a nice accent, furnishing, art statement, and more.
Riviera Collection Mundaka Gray by Adex USA
The Riviera Collection in Mundaka Gray from ADEX USA adds a beautiful gray palette to vertical spaces in the home. The gray tone-on-tone variation of this ceramic wall tile adds an eye-catching, yet sophisticated aesthetic to designs. The diversity in this universal tone lends endless possibilities to add additional pops of color to any room! Shop now at Tiles Direct: https://www.tilesdirect.net/riviera-mundaka-gray-4x4-field-tile/
EVERLIFE LVT Collection Katella Ash by MSI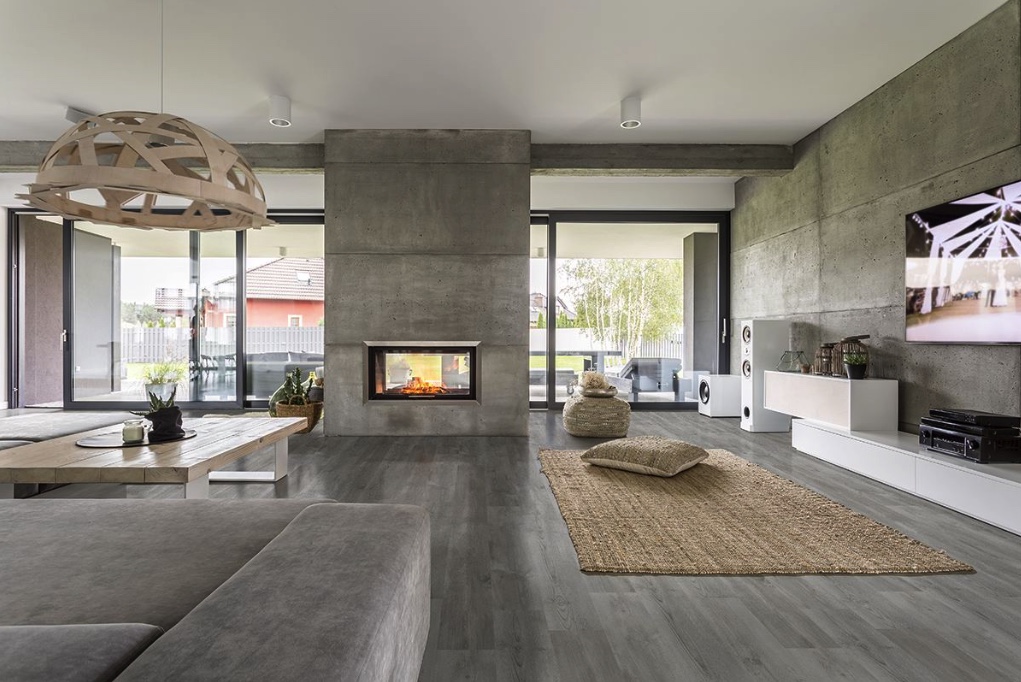 Timeless and classic, a gray wood-look luxury vinyl floor offers both style and durability. Katella Ash Gray from the MS International EVERYLIFE LVT collection is the ultimate, timeless gray for floors throughout the home. With a such a neutral shade of gray, this wood-look pairs with any design scheme from sophisticated to minimalistic. The MSI Everlife collection also comes with a lifetime residential warranty and offers an easy-install locking system, perfect for any DIY'er! Shop now at Tiles Direct: https://www.tilesdirect.net/prescott-katella-ash-low-gloss-7x48-ridgid-core/
Cinq Ceramic Collection Grey by Anatolia Tile & Stone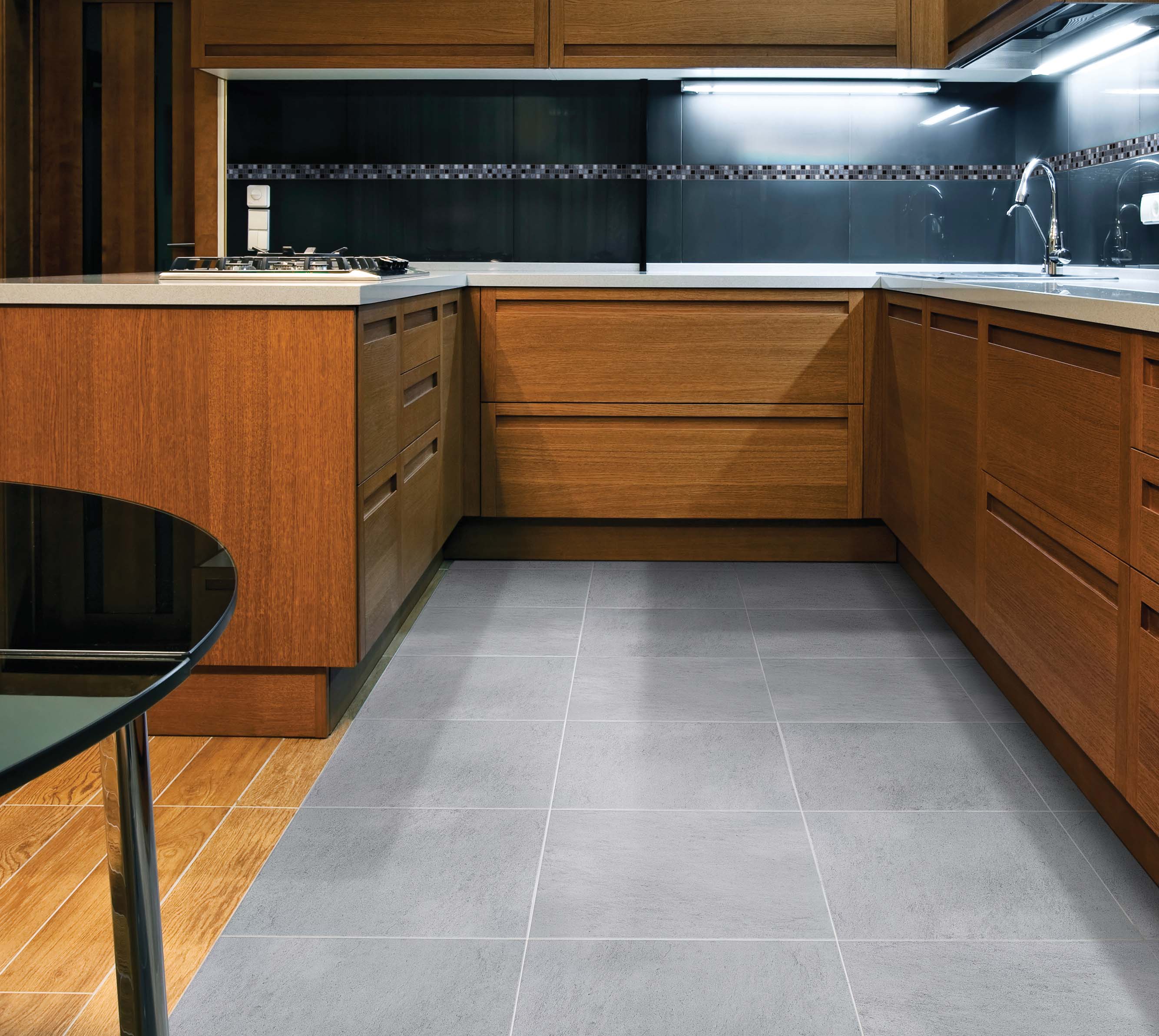 Get inspired by the industrial sophistication of this Grey 13"x13" concrete-look ceramic tile from the Cinq collection by Anthology. The sober elegance of this grey tile adds a modern spin on urban design, adding dimension to any room with the slight shade variation. Shop Now at Tiles Direct: https://www.tilesdirect.net/cinq-grey-floor-tile-13x13/
Illuminating Yellow
Illuminating Yellow, the opposite of Ultimate Gray, is the light at the end of the tunnel that was a tumultuous 2020. Looking forward to a more positive atmosphere in the new year, yellow is the color of optimism. The color is reminiscent of warmth, happier times, and the promise of sunnier days ahead.
Color Appeal Vibrant Yellow by Daltile

Vibrant Yellow from the Color Appeal collection by Daltile is almost identical to Pantone's Illuminating Yellow. Fun and inviting, this 2"x8" ceramic wall tile will brighten any room! Use Vibrant Yellow as an accent piece or make it the focus of your room by completing the wall. With such an eye-catching collection, the design possibilities are endless. Shop now at Tiles Direct: https://www.tilesdirect.net/color-appeal-vibrant-yellow-2-x-8/
Maiolika Collection Okra by Iris Ceramica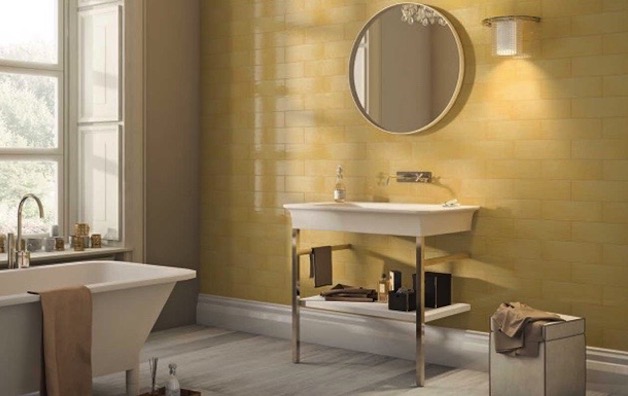 A soft and subtle approach to bringing Yellow into designs is Okra from the Maiolika Collection by Iris Ceramica. This ceramic subway tile provides warmth to design, in a timeless and elegant format. Shop Now at Tiles Direct: https://www.tilesdirect.net/maiolica-orca-glossy-4x12/
On The Edge Collection Halo Gold Ceramic 5"x5" by Anthology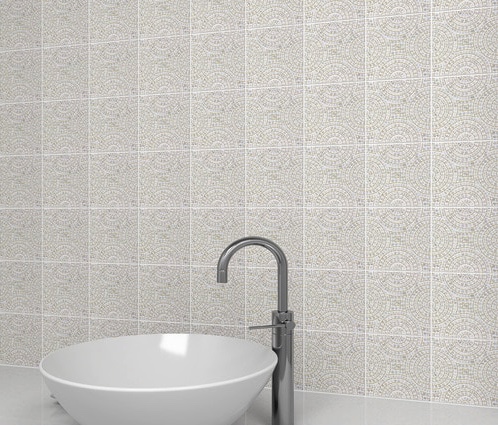 Incorporating both yellow and gray from the Pantone Color(s) of the Year is the On The Edge collection by Anthology. This 5"x5" medallian inspired mosaic brings a royal, on-trend feel to designs for captivating interiors. Shop now at Tiles Direct: https://www.tilesdirect.net/on-the-edge-halo-gold-ceramic-5x5/