With an increase in the amount of time spent in the home throughout the last two years, many are trying to find new and exciting ways to spruce up their interiors. With some now working from home and staring at the same walls day-to day, transforming your space can give an extra boost to an otherwise simplistic day.
A trend made popular through the madness that has significantly influenced interior design is the use of tile and stone accent walls. There are many decorative tiles to choose from, allowing not only a unique design, but one that will stay in style for years to come!
Read on as Tiles Direct highlights some of our must-have decorative tiles, and the installations they would best be suited for.
A Dazzling Backsplash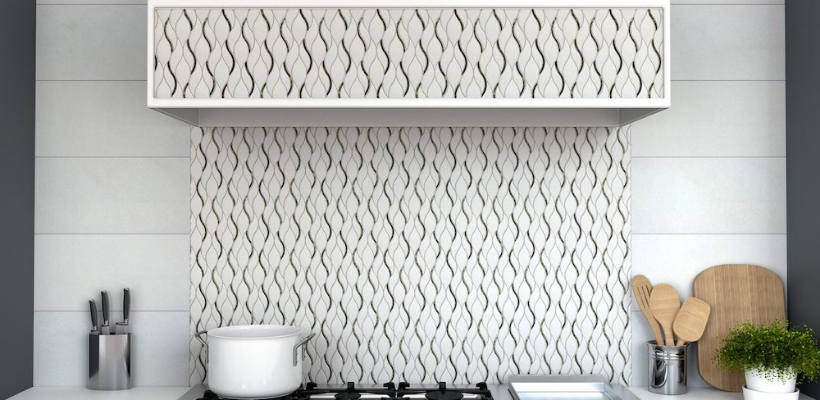 Featured Product: Dazzle Silver Symmetry Mosaic 10x12 Sheet.
Soft and subtle, add some sparkle to accent walls with the Dazzle collection by Anthology Tile. These luxurious mosaics are a blend of natural stone and glass, featuring insets of gold and silver to create eye-catching visuals.
Utilizing the space behind your range is a muted approach to an accent wall. Using white planks as the majority of the backsplash, the Dazzle Symmetry mosaic gives this kitchen an elegant lift. With a variety of intricate mosaics to choose from, the Dazzle collection provides a tasteful accent wall for any interior wall application.
Bold in Black & White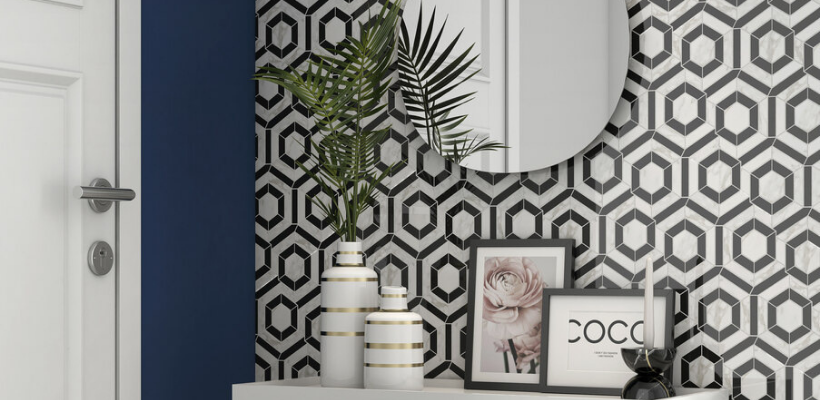 Featured Product: Rockart Black and White Hexagon Marble Mosaic 9x12 Sheet.
One color palette that will never go out of style is a black and white themed accent. Black and white normally sets the tone of the room, with other colors brought in as accents to make things pop. But what if it were the other way around?
These Black and White Hexagon Mosaics from the Rockart collection are a show-stopper! A collection of mosaics made from natural stone, these daring designs bring an organic element to any interior wall application.
This living room features these striking hexagons tiles with navy walls, creating a breathtaking accent that catches the eye. The entire Rockart collection features tasteful mosaics with intricate designs making any of them perfect for the modern interior's accent pieces.
Pattern Play
Featured Products: +One Greige/Mud Sphere Deco 12x12 & +One Mud/Greige Sphere Deco 12x12.
Accent walls need to not only stand out from the rest of the room, but usually have an exciting element that makes one stop to take a second glance. Experimenting with patterns is one way to make those walls prominent.
Whether the pattern play be within the colors, the shapes of your tiles, or a combination of the two, patterned walls have always found a home in the trends of interior design. Utilizing the +One collection, this office area created a modern, gritty accent wall using the Sphere Deco. These 12x12 decorative tiles are available in a variety of colors to provide a plethora of installation options. The collection is suitable for both interior and exterior walls, as well as interior floors for an expansive opportunity of design.
Encaustic Accents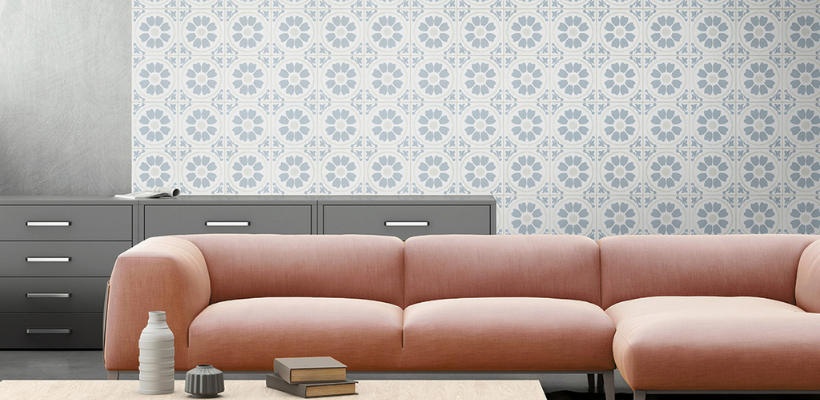 Featured Product: Kenzzi Tamensa 8x8.
Encaustic tiles have surged in popularity recently, and for good reason. Encaustic tiles are ceramic tiles in which the pattern on the surface is not due to a glaze but the actual mixing of different colors of clay. The result is a charmingly rustic hand-made design that gives every design originality.
From stylized flowers to mod geometrics, the Kenzzi glazed porcelain tile collection features a variety of encaustic-look designs for modern spaces. Whether creating rug patterns on the floor or mixing and matching these matte tiles for an accent wall, the Kenzzi collection will add charm to any space.
Adding a Third-Dimension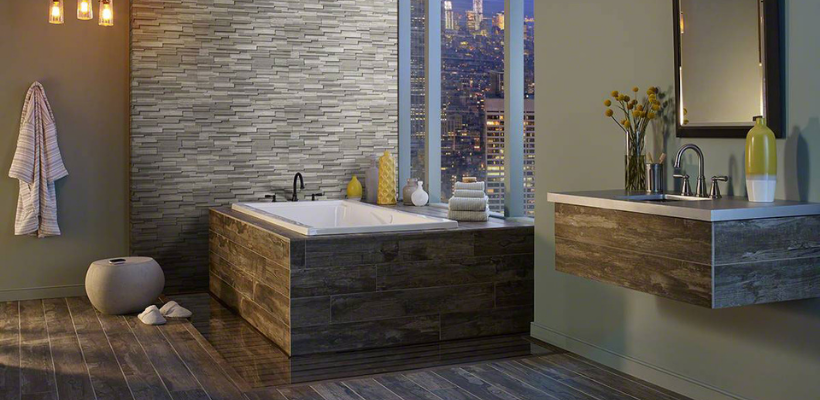 Featured Product: Rockmount Stacked Stone Gray Oak 3D Honed Panel 6x24.
A tile created to stand out, figuratively and literally, are three-dimensional tiles. Stacked, three-dimensional tiles add both depth and perception to design, making a statement while adding texture to interior and exterior walls.
One of the most popular 3D tiles in the industry are ledger panels. Ledger panels are available in an inspirational array of looks and finishes. From refined and rustic to contemporary chic, the Rockmount Stacked Stone collection features both three-dimensional and splitface panels to create a refined accent wall.
Ledger panels, although often known for their use in barbeque surrounds and planter walls, are equally enchanting indoors, giving backsplashes, fireplace surrounds, accent walls, and other vertical applications unmistakable character. Rockmount stacked stone ledger panels are modular in design which allows for less grout and a seamless installation.
Whether you prefer a bold and vibrant accent wall, or a more subtle and traditional interior style, there are many different ways to bring a wall to life! For more interior design tips and trends and all things tile, follow Tiles Direct on Instagram, Twitter, Facebook, and Pinterest.