With 2021 coming to a close, it is time to get excited for all that is in store for the upcoming year – including the fabulous colors projected to take over the world of interior design!
Each year, the major color authorities of the world reveal their picks for the hues that best express the current time period - drawing on trends in pop culture, fashion, technology, and design from around the globe.
Color predictions for the upcoming year are an exciting tool to utilize when planning for your next home project. To help spark even more inspiration, Tiles Direct is examining the 2022 selections by diving deep into this year's choices from the Pantone Color Institute, as well as the top paint companies in the United States.
1. Pantone – Very Peri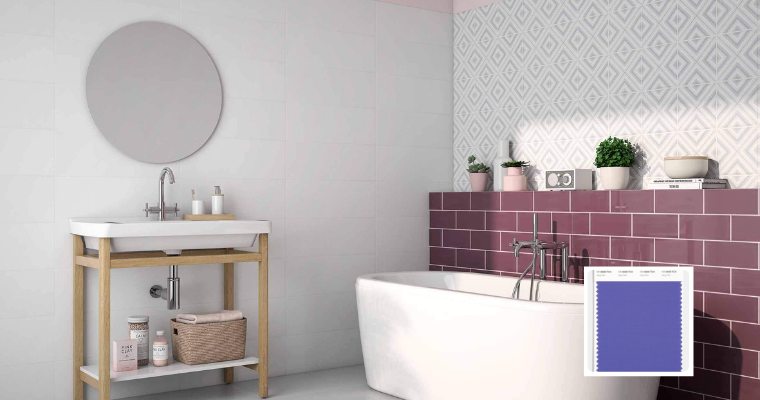 For 23 years, Pantone's Color of the Year has influenced product development and purchasing decisions in multiple industries including fashion, home furnishings, industrial design, product packaging, and graphic design. This year, the selection has been declared as Very Peri (PANTONE 17-3938).
Very Peri is a vibrant hue that blends the qualities of cool blues with violet-red undertones for a vivacious purple. When coupled with luxurious green shades such as olive, lime, and mint green, Very Peri creates a stunning contrast within interior designs! For a more natural appearance, the color can be balanced with white and beige tones that pull a room together.
For a more subtle choice with the same impact, the Joy Burgundy Wall Tile Collection from Roca Tile accentuates kitchen and bath designs with a pop of purple that creates an explosion of high-end style.
2. Sherwin Williams – Evergreen Fog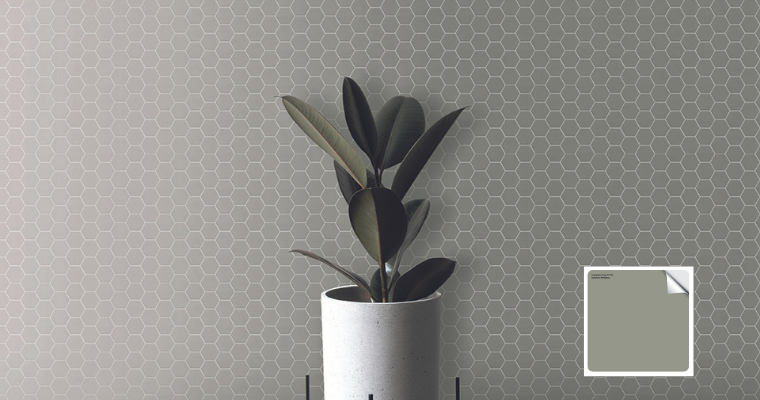 An appeasing tone to set the mood, Evergreen Fog from Sherwin Williams invites a subtle freshness to any room of the home. Described by Sherwin Williams as "A simple but sophisticated wash of beautiful, organic color for spaces that crave a subtle yet stunning statement shade," this nature-inspired shade creates a modern, organic feeling.
Wild Sage from Terratinta's Hexa collection emulates the Evergreen Fog perfectly. Pair with bold or neutral browns, grays, and blues for a biophilic palette that breathes clarity into contemporary spaces.
3. Benjamin Moore - October Mist (1495)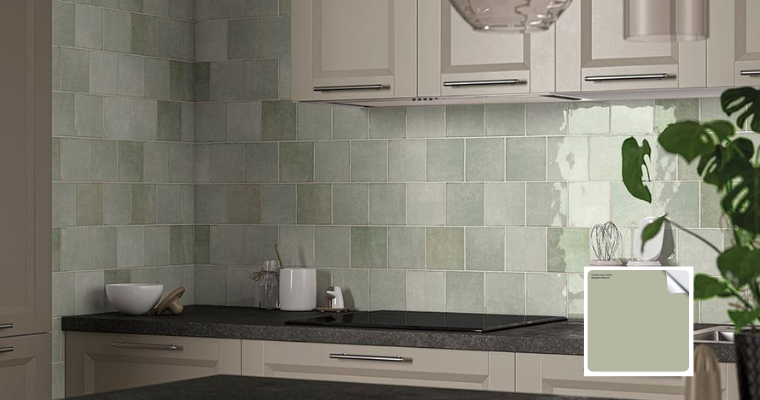 Another member of the Sage family, Benjamin Moore has announced their 2022 Color of the Year as "October Mist (1495)." This soft green invites room for creativity, providing an elegant canvas that can be combined with a vast array of colors.
For fresh and innovative designs, Jade from MS International's Renzo collection serves as a tranquil wall tile option. With a substantial shade variation that allows movement throughout walls, backsplashes, showers, and more, Jade evokes all the elements October Mist symbolizes: harmony and expression.
4. Behr – Breezeway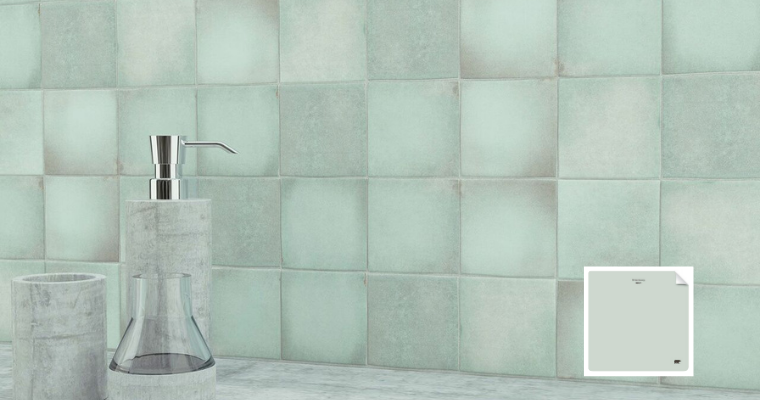 A color representative of Sea Glass, Behr has chosen their Color of the Year to be Breezeway. A serene shade of green that enlightens any room, this minty green naturally harmonizes with shades of white and gray, as well as natural wood tones.
Almost an exact shade match, the Morrocan Habitat Misty Zellige from Anthology features rich coloration, intricate patterns, and irregular edges for a time-tested design. The merge of this handcrafted-effect and the light Breezeway coloring creates a melodious design sure to breathe new life into walls, backsplashes, and showers.
5. PPG – Olive Sprig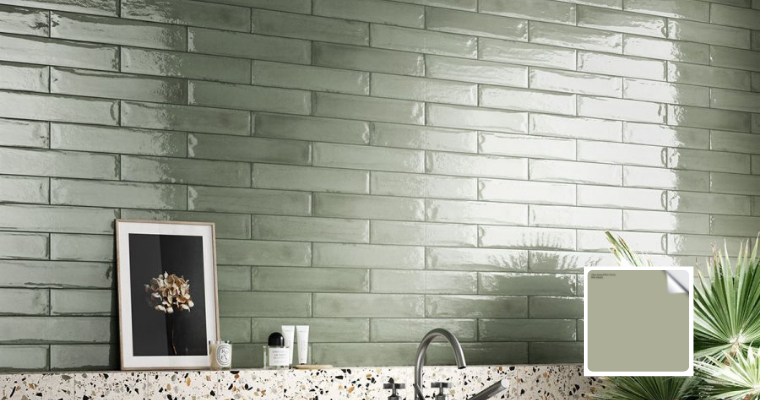 A shade that "emulates the feeling of soothing aloe vera," is PPG's 2022 Color of the Year, Olive Sprig. Both relaxing and invigorating, Olive Sprig is a mid-tone green that melds with any environment.
Olive Sprig's gray-green blend coincides beautifully with natural wood and brass accents. The glossy effect of Verde Aqcua from the Frammenti Collection mimics this soothing color while providing extra shine with its glossy finish.
We can't wait to see the beautiful interiors created using these trending hues. Will you be utilizing any of these colors in your 2022 remodeling projects? For more interior design tips, follow Tiles Direct on Instagram, Twitter, Facebook, and Pinterest.