As much as you love spending time in your kitchen, you probably hate seeing those outdated and old-fashioned designs that you or a previous homeowner added years ago. If you bought a previously owned home, you likely see the design sense of those older homeowners everywhere you turn. At Tiles Direct, we think that you deserve better, and we believe that you earned the right to redecorate your home and add your own personal touches. When you choose kitchen backsplash tiles, you start putting your mark on your home.
What is a Backsplash?
A backsplash is essentially a series of tiles added to areas around your kitchen that keep liquid and stains off the walls. Many people add one of these designs to the area behind a stove. They know that cooking liquids can easily splash onto the walls and leave behind stains. Others add a backsplash to the area behind a sink. When filling heavy pots, washing your hands and even getting a glass of water, you might accidentally send an arc of water directly onto the wall, which can cause the paint or wallpaper to peel. A backsplash can prevent those problems from happening.
Types of Tiles
Kitchen backsplash tiles now come in a wide range of styles. Before deciding which type is right for you, spend some time browsing the selection available here at Tiles Direct. Natural stone tiles have an almost rustic look, and many of the more popular designs feature a neutral background color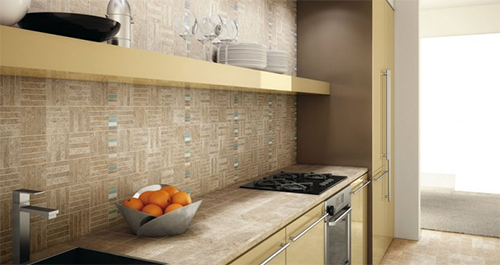 with contrasting colored veins running through the stones. Some shoppers prefer the convenience and ease of ceramic tiles. Those tiles come in hundreds of designs and colors and are easier to clean than natural stone. If you want a more modern kitchen, consider adding a backsplash made from glass or metal tiles.
Choosing a Color
With as much time as you spend in your kitchen, you want a tiled backsplash that you love. Before choosing a color, think about the decorations in your kitchen, the color of the floors, the wall color and even the color of your cabinets. You want a tile backsplash that highlights those areas and doesn't stick out like a sore thumb. Some homeowners want a lighter shade of white, cream or bamboo, while others prefer a color with a little richness, including olive or sandstone. You'll also find colors that are even darker and deeper, including warm shades of brown and dark shades of midnight black.
Adding Your Touch
Choosing kitchen backsplash tiles gives you the chance to put your own personal touch on the space. Instead of adding a simple backsplash made from tiles arranged in a simple design, why not add a decorative border that goes across the top or the sides of the backsplash? You can also add in a few decorative tiles in the center of the design, or choose tiles in diamond patterns and other shapes for your backsplash. Whether you want to add a new backsplash or replace an older design, shop for your tiles today.