You can't think about high-quality Italian tile without thinking of the name Marca Corona. The history of this company dates back to 1741, and millions of people around the world used the company's tiles over the years. Using durable Italian materials, Marca Corona creates tiles suitable for every room in your house and even your outdoor areas, too. Even after walking on those floors for decades, you'll still love the way that these tiles look.
High-Traffic Areas
High-traffic areas include your entryway, living room and the other more frequently used areas of your home. Hardwood flooring and even carpeting can break down from routine use, but Marca Corona tiles will withstand years of hard use in your home. Its Streaming Line is a line of durable and dependable tiles that come in black, olive, ivory, grey and smoke. The tiles feature a striated design with smaller lines in a lighter shade running across a darker background. The pattern also comes in a large mosaic design that is great for using on an accent wall in your living room or as a fun way to welcome people into your home by the front door.
Outdoor Tiles
Creating a new patio or a path through your yard is easy with the right outdoor tiles, and the Stone Line design from Marca Corona is a great option for your outdoor space. Called Porcelain Stoneware by the company, the tiles look like natural stone but feature a porcelain construction. Natural stone often expands as it absorbs water, which can lead to cracking and chipping when the water freezes and then thaws. These Marca Corona tiles have a sealant that keeps the porcelain from absorbing water and extends the life of the tiles. The tiles are available in black, gold, grey, ivory and silver.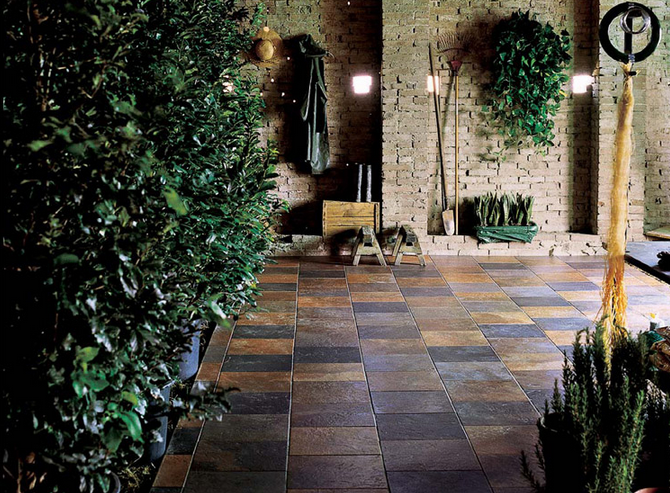 Tiles for the Kitchen
When you choose the Tracks tiles from Marca Corona, you'll love spending time in your kitchen. Available in dark, grey, smoke, ivory and sand, these porcelain stone tiles come in three different sizes. The largest size is perfect for covering the entire floor, while the medium size looks nice when applied to a kitchen wall, and the smallest size is just right for creating a backsplash behind your stove or faucet. With a darker background color and smaller flecks in a lighter shade, these tiles are even better than real stone.
Bathroom Options
Create your own personal space in a bathroom that reflects your sense of style and design. Marca Corona tiles in the Italian Country design are the exact tiles that you need to create that space. The porcelain stoneware tiles come in four warm shades of brick red, cream, brown and white, and the tiles have a slightly rustic finish. Designed to mimic the look of old stone or brick, the tiles have faux grout lines and rough edges that make the pieces look a little historic. Whether your sense of style is classic or runs towards the contemporary, Marca Corona makes tiles that match your style and your home.