Picking out a tile for your renovation is an opportunity to let your design style and creativity shine. The tile has been chosen: the color, finish, size, and placement all have been decided on and it is time for installation! The last step of the tile selection process is selecting the right grout color to complete your vision.
Grout generally consists of a carefully formulated mixture of cement, water, and sand that is added between the joints of your tiles after installation. Grout is an integral part of the tile installation process. Not only does grout bind your design together, but it also stops water, dirt and debris from going underneath your tiles. Along with protecting your substrate, this barrier also prevents the growth of mold, mildew, and other harmful bacteria that could potentially be damaging to your health.
Apart from its functional benefits, selecting a grout color has the power to transform the look of your space and tile design! Here are some key factors to consider when selecting the color of your grout.
1. JOINT SIZES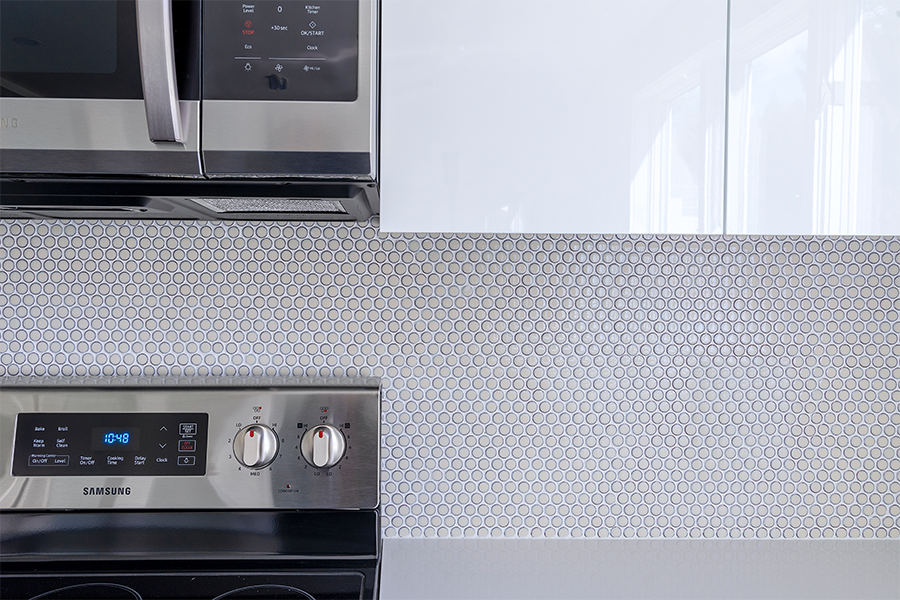 Depending on how you decided to lay out your tiles with your installer, different applications will require different joint sizes. The size of the joint between tiles plays a significant role in how prominent your grout lines will be.
There is no "standard" joint size – and a tile installer should always be consulted before laying your tiles. Generally, rectified tiles will have smaller joint widths due to the fact that their perfectly cut edges can lay side-by-side for a more uniform appearance. The closer your tiles are together, the less visible your grout will be.
Tiles that require slightly larger grout joints, such as penny rounds, will make your grout much more noticeable. This simplistic Princeton, New Jersey home opted for a white grout color that blended with both the countertops and penny rounds for a neutral color scheme throughout the kitchen. If you want your tile and not your grout to be the main focus, closely matching your tile and grout colors is best.
2. TILE SHAPE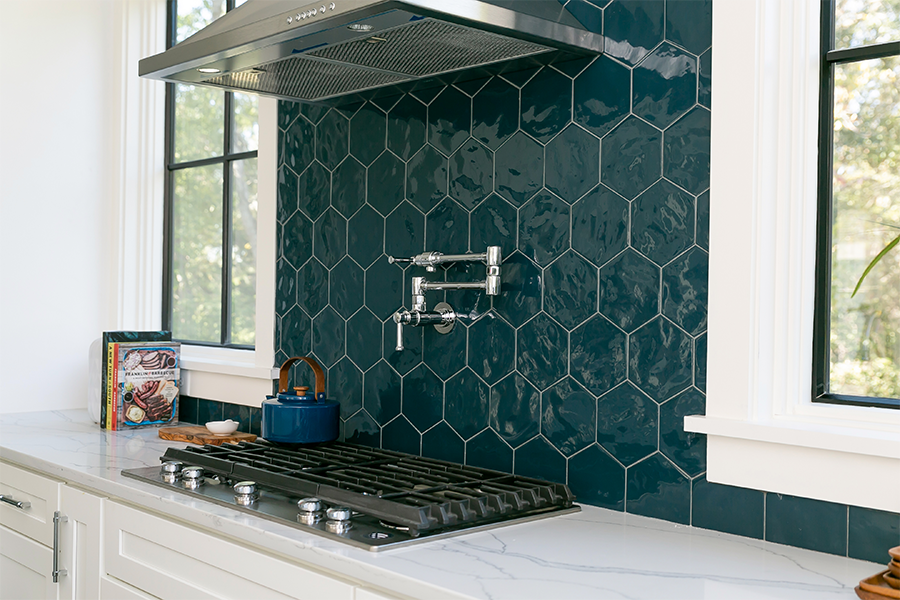 Grout has the ability to accentuate the shape of your tile when using a contrasting color. For geometric shapes such as hexagons, you may want to take the enhancing route to bring out their uniqueness! Using Terratinta's Hexa collection in Ocean Wave, a white grout was used to make these deep-toned honeycomb tiles pop in this vibrant heart of the home.
Geometric shapes with non-rectified edges are also known to have more spacing between joints, so keep that in mind when choosing your perfect shade! The more space means the more visible the color choice will be.
3. CONTASTING VS. NEUTRAL GROUT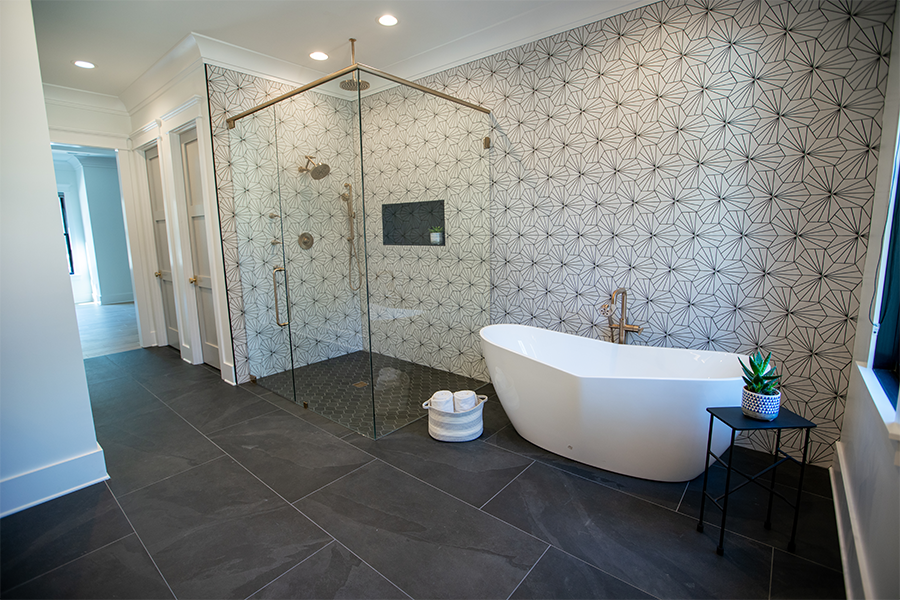 Often we get asked whether it is best to have a contrasting grout color or one that blends seamlessly with your tile. This can be a complex question – because, once again, it's all about preference and design style!
The location of your tile placement can play a crucial role in how you want your grout color to affect the tile. For wall or backsplash tile, the grout will be in an immediate line of sight. Deciding on whether you want the tile or the grout to be the main focal point is completely up to you.
Using contrasting colors will make for more lively design. This coastal Carolina bathroom featured above utilizes contrasting grout colors on both the shower walls and floors for a more dramatic, eye-catching look. The simplicity and elegance of the Brazilian Slate collection on the floor paired with the Striped Hex collection on the walls also creates a contrasting design scheme beyond just the grout choices.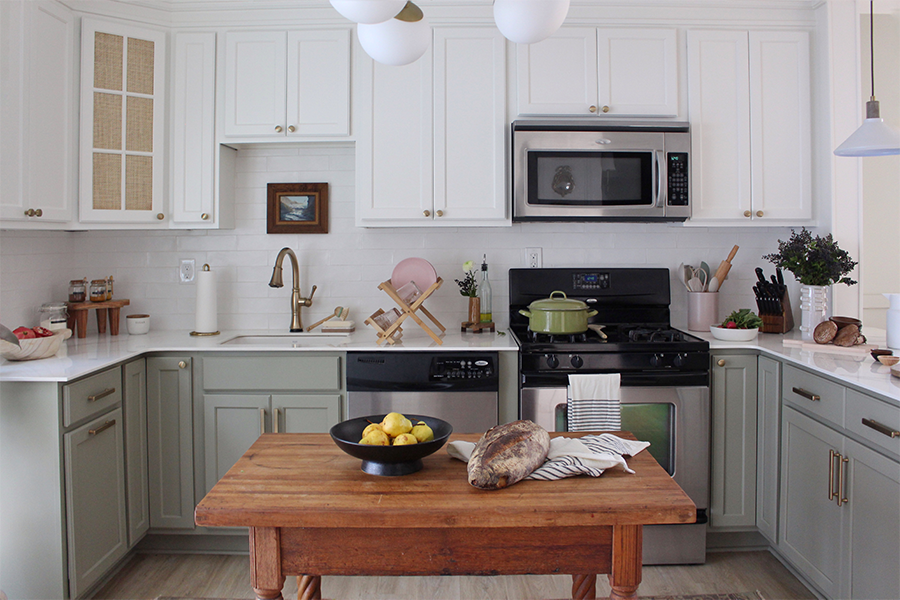 The modern, simplistic kitchen in the second photo exudes a more contemporary style. Utilizing a white grout for a uniform appearance, the Maritime collection's handmade look flows seamlessly throughout the design. Bold or blended, there is a grout selection to achieve your dream aesthetic.
4. CLEANING YOUR GROUT
Tiles Direct recommends Fila Cleaners and Sealers and Miracle Sealants and Cleaners to keep your grout looking like new. From deep cleaning solutions to routine cleaning applications, these pH neutral solutions will keep your investment looking beautiful for years to come. It is essential that a pH neutral cleaner is used to prevent staining and scratching the surface of your tiles.
If still struggling to find the perfect color grout for your designs, a talented tile installer can lead you in the right direction, or contact a Tiles Direct Representative and one of our design consultants will be happy to assist you. For more tips, products, and trends from Tiles Direct, be sure to follow us on Instagram, Twitter, Facebook, and Pinterest.