Make the start and end of your day a luxurious experience with a beautifully renovated shower. Choosing the right finishes for such an important part of your daily routine can seem overwhelming, so Tiles Direct has combined a few favorited designs to enhance your shower's aesthetic, and some tips for choosing the right material.
CHOOSING YOUR SHOWER MATERIAL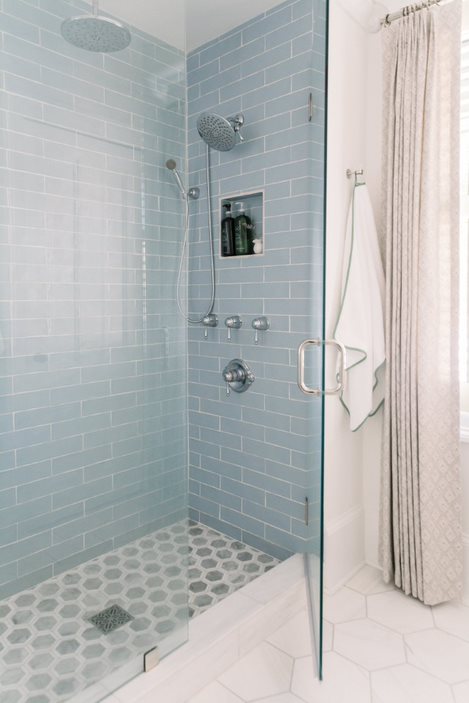 Photo courtesy of Tamara Gibson Photography / Maritime Collection by Nanda Folly Blue 3"x12" Glossy
When choosing the right kind of tile for a shower, it is important to keep in mind the water resistance, slip and texture of the product. The material best known for shower walls and bathrooms as a whole for decades has been ceramic tile.
Ceramic is water resistant, making it the perfect choice for the space that's primary function is to get wet. Along with being impervious to water, it is also stain-resistant and won't absorb bacteria. There are many different styles, textures, and patterns to choose from, options that will increase the safety of your shower experience. The Maritime Collection by Nanda has many colors, sizes, and trims to create the shower of your dreams!
Ceramic isn't the only material available for your shower needs! Other great choices would include porcelain(a member of the ceramic family), natural-stone, and glass tile - all of which share the same water-resistant benefits when properly installed.
CLASSIC SUBWAY TILE
Essentials Collection by Anthology / Silk 3"x12" Glossy
For a look that will stand the test of time, go with a classic, sleek subway tile shower! Aside from the classic white 3" x 6" option, the latest tile technology offers an abundance of style, color, and finish options to add a unique touch to the space. For even more dimension, a contrasting grout or fun layout will create an eye-catching design that is still timeless enough to retain its décor value throughout the years. Shop subway tile here.
MARBLE LOOK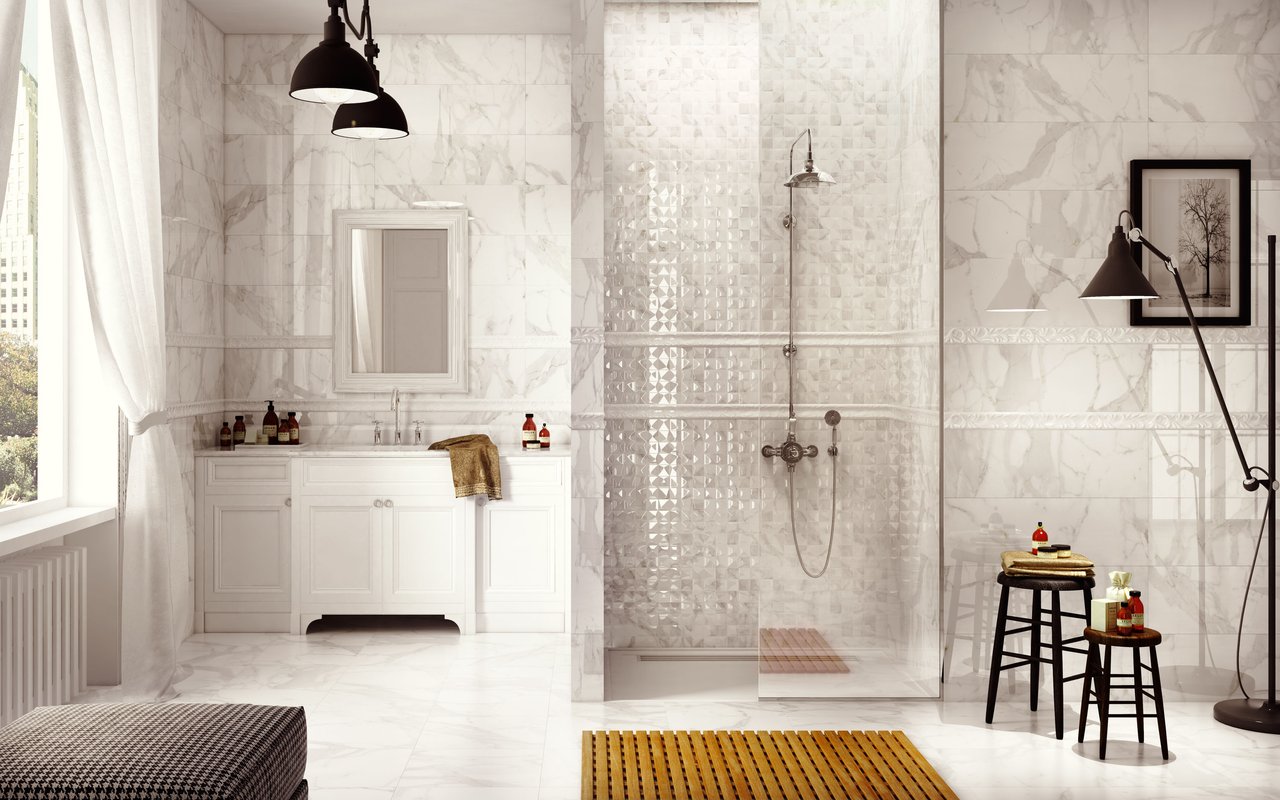 Photo courtesy of Sant' Agostino / Inspire Collection by Sant' Agostino / Calcatta 10"x30" Gloss
Give your shower renovation a bright and luxurious feel with a marble look porcelain! Marble opens a room and is a timeless addition to any renovation. While real marble requires additional time, money, and maintenance, the latest digital printing technology now allows for a true marble look and feel in porcelain formats for the durability and sustainability your home deserves. Shop marble look tile here.
SHAPE VARIATION
(Shower Wall) MSI International / Domino White 4"x16" (Floor) MSI International / Domino White Basketweave Mosaic
Add some diversity with shape variation between your floor and wall tiles! A simple and timeless design is the classic subway wall tile paired with a mosaic floor. Alongside its aesthetic value, having a mosaic tile on the floor is a beautiful way to add safety to your design due to more grout joints which provide a better grip. Shop mosaic tile here.
BLACK AND WHITE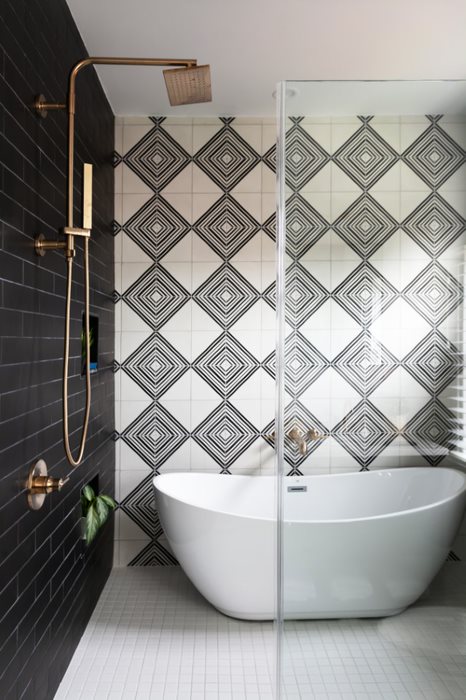 (left wall) Tone Collection by Marca Corona / Black 3"x12" Glossy (floor) Retro Mosaics Collection / White 2"x2" Matte
A black and white color scheme for any room of the home is chic and timeless. Choosing this fan favorite color combination lends an endless amount of design opportunity to make your bathroom stand out. From retro to modern, traditional to eclectic - black and white is the pair that will never go out of style.
When creating the shower of your dreams, think about practicality as well as style. Tile technology and design options have significantly improved over the years making it easy to have both form and function. As the saying goes, "Your greatest ideas come to you in the shower." Make your shower your greatest idea with Tiles Direct!