When considering all of the different varieties and styles of tile that are available today, it can be difficult to form an opinion on what is actually right for your home. While there is indeed a long list of possible options, if you are looking for something that's durable and a bit more sustainable, you may want to consider cement tile.
In recent years there has been somewhat of a rekindled interest for cement tile because it fits so well with the current home improvement trends of low maintenance, design flexibility, and environmental awareness. Crafted from a combination of sand, water, pigment, and of course cement, these simple yet attractive tiles are quite durable and multifaceted, making them an excellent choice for any room of your home.
Because these kinds of tiles are created using a mold to make unique designs in a wide variety of colors, they are often considered adaptable to just about any home theme or look you're going for. First seeing wide use in France around the 1800s, these handcrafted tiles have been utilized for decades and prized for their simple aesthetics. While methods have been developed to produce these tiles on more of a mass scale, they each must be individually created with a hydraulic press, which gives each tile its own distinct nuances that make cement tile the perfect artistic choice.
This comprehensive guide will cover all the ins and outs of cement tile, including the benefits it brings to your home as well as other key points that are important to consider if you are planning on using it for your project.
The Benefits of Using Cement Tile In Your Home
Traditional cement tile is a rather hardy variety of tile used for both practical and artistic purposes. You're just as likely to find them being installed as bathroom flooring as you are a decorative backsplash. While they aren't as purely all-purpose as certain varieties of tile, they can indeed be used for a wide variety of residential applications.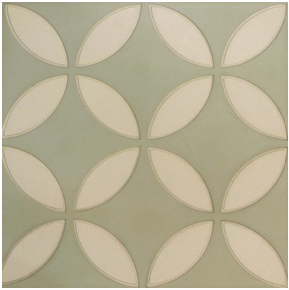 There are specific key highlights and benefits of using cement over other kinds of tile and flooring options. Understanding these benefits will help you decide if it is the right choice for your home improvement project or not.
Durability
One of the most standout traits of cement is that it has always been known as a rather durable material that can endure regular foot traffic for years and years. When looking into flooring options for your home, the lifespan of the material will ultimately weigh heavily in your decision making. Practically, cement tile will not chip, cratch, scratch, or dent when sealed and installed properly.
Maintenance
After durability, ease of maintenance is probably the next most important quality you want out of your tile selection. In general, cement is fairly easy to take proper care of, not unlike most varieties of tile. It only takes a bit of mopping with mild soap to clean, followed by a dry mop to remove any excessive moisture. Because cement is somewhat porous, staining is a possibility, so it is only recommended for installation in dry areas.
If you plan on installing cement tile flooring, a strong sealant is recommended, which will go a long way in preventing any staining while also making the surface easier to maintain in general. This will also aid in helping the tiles to keep their original color.
Flexible Designs
One of the big selling points and most attractive features of cement tile is the vast array of unique and interesting designs that are out there. Because the tiles are created using a mold and an assortment of natural pigments, there is quite literally no end to the distinct variations that you can find. Regardless of what style of home decor you have or what your project calls for, there's tile that will fit what you're looking for. And, because cement tile isn't fired, you can achieve much brighter colored tiles than most ceramics or porcelains.
Often, these tiles include various abstract, geometric, floral, and fun pattern designs in just about any color you can think of, which creates unlimited potential to incorporate them into your home. Many popular designs are even inspired by the original Spanish and Moroccan styles that originated back in the 1800s, giving you the ability to recreate this aura of artisan refinement in your home today.
Environmentally Friendly
Generally speaking, cement tile is one of the most environmentally sound and sustainable flooring options available. They are created using natural materials and through a hydraulic press process that doesn't require any baking like many other varieties of tile. Due to this simple process, they are energy efficient, which is becoming increasingly important for homeowners and the environmentally-conscious alike.
If sustainability is a factor you are specifically looking for, cement might be the perfect option for you. Despite their extra eco-friendly nature, they are still extremely reasonable in terms of cost. High-quality tile can be beautiful, sustainably made, and affordable at the same time. If you want to invest in more environmentally sustainable options, and you want your home to reflect this, cement is the way to go.
Other Important Points to Consider
It's clear that there are plenty of reasons why you would want to include this kind of tile in your home, yet there are also several other points to consider to get the complete picture. While it's true that cement tile is fairly easy to maintain and offers a great range of styles and designs, it's not going to be the perfect solution for every home or in every situation.
Take the time to educate yourself on all of the details so you don't regret your decision later. Cement is an incredible variety of tile that can serve a multitude of purposes, but there are specific instances in which it is less than ideal due to its composition, such as areas that receive high traffic or tend to get wet often.
Cement Tile Tends to be Thicker
One interesting point about tiles constructed from cement is that they tend to be thicker than traditional porcelains or hardwood. This unique trait should be taken into consideration before purchasing to ensure that it can accomodate your specific area. One positive of this unique trait is that that thickness of cement tile allows it to be refinished as often as needed.
Cement Tile Can be Heated
Like most flooring, cement tile can feel cold under bare feet. But, depending on the age of your home, you may have the ability to install radiant heating underneath your tile for a toasty option that keeps you warm all season long.
Cement is Porous
Not unlike other natural stone tiles, cement tile is somewhat porous. This means that unless properly sealed, it is liable to stain if moisture is left on its surface for too long. It is advisable to take proper care of concrete flooring by making sure to dry the surface completely after you mop and to regularly seal it every two to three years.
Indoors or Outdoors?
Unless you live in a relatively temperate climate that doesn't get much rain or threats of frost, it's better to keep your cement tile indoors rather than out. While it's certainly not unheard of to utilize cement tile for patio and walkway projects in more temperate regions, it's best to be avoided if you experience freezing or frequent rain and snow.
In general, concrete is far easier to maintain indoors than outside, especially given its porous nature. You will get far more mileage out of your tile if you install it in an interior location unless you live in a mild, dry climate and the tile is installed in a shaded area.
Practical Information on Cleaning and Maintaining
If you intend on installing brand new tiles in your home, you're going to need to know how to take care of it. Because cement tile may require a different maintenance routine than what some homeowners are used to, there are certain guidelines and practices to consider. Though it shares many similarities with natural stone tile, it's important to be aware of exactly what you need to do in order to make sure your tile stays looking its best through the years.
●Cement tiles should be cleaned using a neutral cleaner, much like what you would use for natural stone. Gentle soap and water are enough. Avoid anything too acidic, such as harsh chemical cleaners, as they could potentially damage the stone. Always dry the surface thoroughly after cleaning.
●Avoid detergents as these can leave a residue.
●After Installing, you may see white powder appear on the tile. This is simply calcium and can be removed simply by sweeping or with a wet cloth. Soap is not necessary.
●The tiles should be resealed regularly, no more than every three years or so. When you are resealing, make sure that the surface of your tile is clear of any debris and is completely dry. Sealing in moisture may lead to a white, milky appearance on your tiles.
Choosing the Right Tile For Your Project
Cement tile is a functional and trendy way to enhance any space in your home, and given the amount of color and style options that are available, you're sure to find a look that compliments your decor and theme.
Once you decide that you want to go the cement route for your home improvement project, the next step is knowing where to get a high-quality tile that will fit your needs. Here at Tiles Direct, we make finding the tile you want effortless, as our extensive selection and dedication to customer service makes us the premier choice for purchasing tile online.
Whether you are planning to overhaul your entire bathroom or simply want to modernize your kitchen backsplash, we have everything you need to bring that vision to life. With our beautifully patterned tile featuring a wide variety of colors and style conventions, you will be able to find what you need to improve your home right here.
We at Tiles Direct are dedicated to helping you create a more functional and beautiful home through high-quality and reliable tile options. Regardless of what room you are remodeling or fixing up, we have the products and the expertise to serve you in the best way possible. This includes lightning fast shipping and unparalleled customer service. If you are thinking about installing cement tile in your home, we have the product selection to make it happen. Reach out to us at 407-730-0025 and our team will be happy to assist you.