While some companies focus on creating as many tiles as possible, Alfalux believes in finding what works and perfecting those designs. Though you'll only find a few options available from this company, the durability and great designs of those tiles will make you a fan of Alfalux. Strong enough for use on the floor but decorative enough for use on the walls, tiles by Alfalux will grab your attention and inspire you to redecorate your home.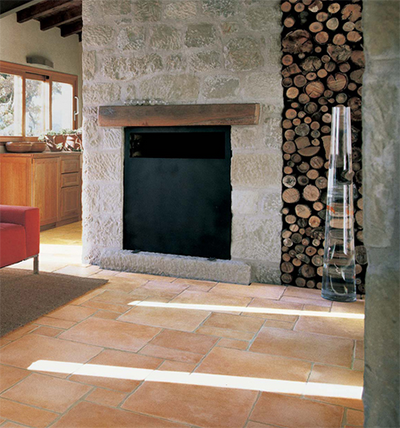 Gallura Natural Tiles
The sleek and upscale look of a contemporary art gallery comes to life in Gallura Natural tiles. Designed for those with modern design sensibilities, these tiles have a great look that works well in a bathroom, kitchen, entryway or even a bedroom. Available in four colors, Alfalux encourages you to choose a color that adds a special touch to your home. Nero is a bold black color, while cappuccino has a slightly warm brown finish that might remind you of your morning cup of coffee. The tiles are also available in a light gray color called Cenere and a soft white shade called Ghiaccio. Measuring 24-inches by 12-inches, the tiles come in a large and dramatic size.
Gallura Mosaic Tiles
Alfalux created its line of Gallura Mosaic tiles for those who liked the modern look of the original design but wanted something a little softer. While these tiles come in the same four colors, each tile measures just 12-inches by 12-inches. These tiles have a mosaic design, which uses smaller tiles attached to a shared base. When you install these tiles in your home, you'll get the traditional and classic look that you crave with the soft colors that you need. Alfalux drew inspiration from volcanic rocks to create these tile lines.
Stone Prints Tiles
The Stone Prints tiles by Alfalux bring a unique design to the world of tiles. Though each one looks just like real stone, the company uses porcelain tiles and adds oxidized metal that gives the tiles a one of a kind look. The oxidized metal essentially creates areas in the stone that resemble the natural veins that run through marble or granite. Every tile sold under this line has a slightly unique and different appearance, but the pieces work great when placed together and installed on the wall or floor. Like the Gallura tiles, each one is 12-inches by 24-inches.
Stone Prints Mosaic Tiles
With the Stone Prints line, you can choose tiles in a classic shade of white called Ghiaccio, a warm shade of gold, the Grigio light gray color or a darker shade of gray called Nero. Inspired by classic names and natural volcanic stones, the tiles have a slightly warm finish, and the mosaic line features all the same elements of the classic line. The only difference is that these tiles come in 12-inch by 12-inch size pieces that feature smaller tiles across the front. Whether you choose mosaic or traditional tiles by Alfalux, you'll love the way the designs make your house look.