Tiles by Eleganza are frequently requested by customers building a new home or remodeling an older one because of the product's excellent reputation. After gathering measurements for a space in your home, it is simple to look online for the correct size of tile squares or corner pieces. To make the shopping experience faster, customers can select a variety of categories to narrow options.
Ceramic or Porcelain Products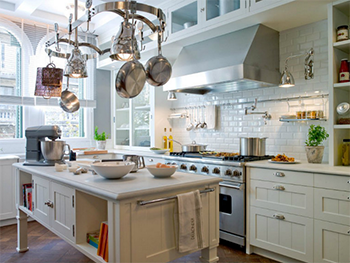 Porcelain or ceramic tile is extremely popular for decorating bathroom walls and kitchen countertops. Ceramic and porcelain materials make waterproof tiles that are installed carefully with water-resistant grouting. Homeowners enjoy using porcelain or ceramic products because the materials are easy to wash and dry, leading to a low maintenance countertop or wall. In a kitchen, a porcelain backsplash or ceramic countertop makes cleaning after preparing a meal simple. In a bathroom, a ceramic wall or porcelain countertop protects wood cabinets and drywall. At the same time, tiles made of porcelain or ceramic are available in a wide assortment of colors and designs to create a unique space in a home. Anyone seeking a durable but affordable tile product will want to use either glazed or unglazed ceramic or porcelain tile in several areas of a home.
A Classic Floor Design
Wood flooring is a classic look in any room that complements different wall colors and furniture designs. A homeowner can use tiles by Eleganza purchased from Tiles Direct to have a room that looks like it has expensive wood flooring. However, the tiles are actually made of easy-care porcelain or ceramic that resists debris such as mud. Natural wood floors are outrageously expensive, but homeowners still love the appearance of pine, walnut or cherry tiles in a living or dining room. Making tiles strong enough for daily foot traffic in a private residence or commercial property requires expertise. Buying well made flooring from a specialty maker of tiles ensures a homeowner has a long lasting product that retains its beauty.
Create a Mosaic Effect
Glass tiles by Eleganza can also provide a unique design element in a home on walls in kitchens or bathrooms. Products made of glass are simple to clean with homemade vinegar mixtures and a soft cloth that does not abrade the delicate finish of the tiles. Due to the nature of glass products, the colors of the tiles are vivid and beautiful. One of the most popular home decorating projects with tiles made of glass is creating a mosaic effect on backsplashes in kitchens or around mirrors in bathrooms. Ordering glass tile from an online store such as Tiles Direct is easy because there are many different sizes, shapes and colors of product made to create borders and corners.