Why settle for the same old tile, wood or carpeted floors that you walk on every day? Thanks to the wide range of tiles by Ergon, you can find a color and design that works with both the style of your home and the decorations that you use around your house. The company specializes in modern tiles that have a classic feel, and those tiles will look fantastic in every room of your house.
Eco Logik
Eco Logik is one of the more popular types of tiles available from Ergon. Available in larger sizes that measure 12-inches by 24-inches or 24-inches by 24-inches, these tiles are great for use in a larger room or in an entryway. The Noce color features a slightly warm shade of brown with lighter accent shades, while the Gringo color is a richer and deeper shade of brown. The company also offers its Eco Logik tiles in Bianco, which is a lighter and paler cream color.
Elegance
With 15 different colors to choose from, it's no wonder why so many shoppers select the Elegance tiles by Ergon. You can choose between the traditional larger tiles or a mosaic design, which features smaller tiles arranged on one large piece. The colors available in this design range from three shades of ivory to three bold black colors.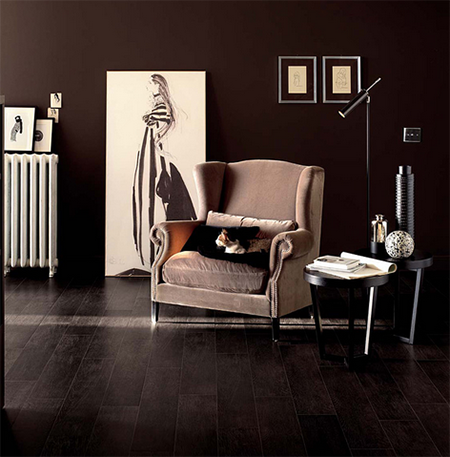 Green Tech
Looking for tiles that bring a touch of the great outdoors into your interior spaces? The Green Tech tiles from Ergon have a natural stone look with one background color and accent colors running through each tile. Available in brown, sage, sand and ivory, the tiles also come in multiple designs, including two different types of mosaics.
Mikado
Though most people know Ergon for its classic designs, it also has some more modern designs, and the Mikado style is one of those more modern tiles. With various bands of colors running through each tile, these pieces mimic the look of hardwood and work equally well on the floor or the wall. The tiles come in three colors: a rich brown shade, a dark black color and a paler bamboo-cream color.
Stone Project
Whether you have a traditional room filled with antiques or a modern entertainment room, you'll love the way that Stone Project tiles look in the space. These tiles come in 12-inch by 24-inch pieces, and you can choose between cross cut or vein cut designs. Vein cut designs run with the natural grain of the stone, while cross cut designs cut through the center of the stone. Choose Stone Project tiles in black, white, gold or grey.
Wood Talk
Wood flooring comes with a number of potential problems, but you won't have those same problems when you choose Wood Talk tiles by Ergon. Through researching different tree and wood flooring types, the company created a line of porcelain tiles that look just like hardwood. Those tiles come in a white, black, gray or brown finish. Whether you love classic or modern styles, you'll love the variety of tiles available from Ergon.