Tile has long been an interior fan favorite for its decorative qualities and multipurpose functionality. With a plethora of different shapes, sizes, styles, and performance purposes to choose from, there is a tile out there to fit any aesthetic of your imagination.
Tiles Direct has comprised a list of the top tile trends seen this 2021, and how to incorporate these looks into your own remodeling projects!
1. Hexagons Sweet as Honey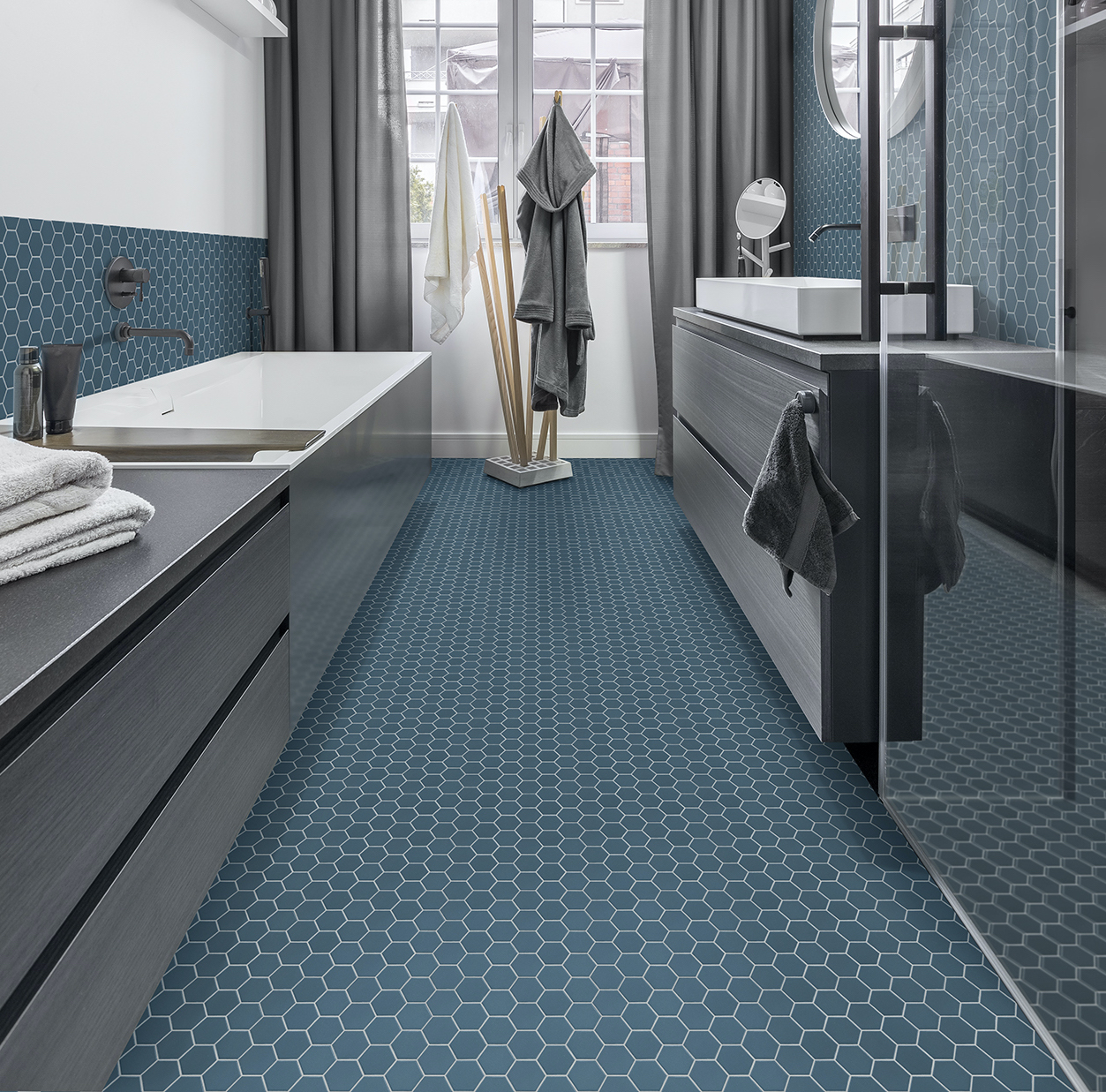 Hexa Ocean Wave 12"x12" Mosaic Matte from Tiles Direct.
One trend made popular in 2020 that doesn't appear to be going anywhere anytime soon is the use of hexagon shaped tiles. These honeycomb inspired tiles incorporate the best of both worlds. Considered as both retro and a staple of modern design, hexagon tiles make for unique floor patterns, backsplashes, shower niches, and so much more!
Using larger hexagons can make a room feel expanded, while creating an eccentric focus point. Smaller hexagons most commonly used in mosaics are the perfect additions for shower floors and niches, providing a safe, more durable grip. The Hexa Collection from Tiles Direct features a combination of both 6"x7" Glossy Wall Tiles and coordinating 12"x12" dot mounted mosaic sheets in matte and fabric mixes to create unusual compositions for all room applications.
To view Tile's Directs extensive list of hexagon tiles, click here.
2. Tasteful Terrazzo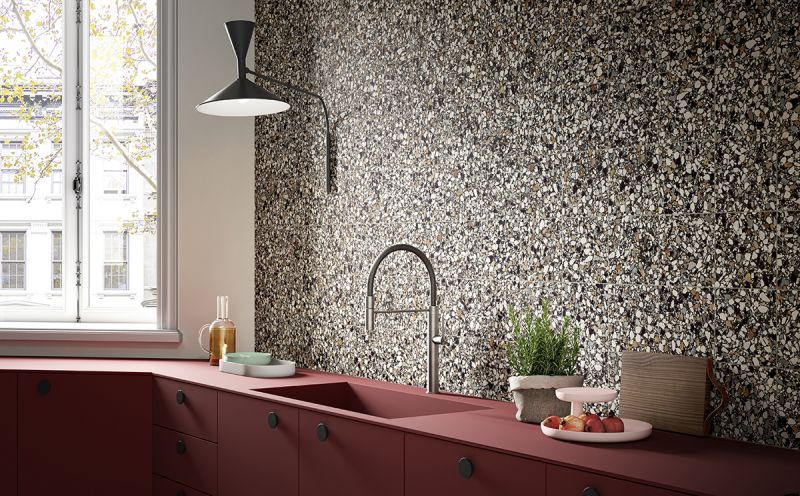 Frammenti Nero 8"x8" Matte from Tiles Direct.
A material that has made a comeback in recent years is assorted aggregates. Terrazzo and terrazzo-look tiles make for a bold and beautiful statement in any room. Whether terrazzo is used to lighten up a bathroom, create an elegant dining area, or a splendor backsplash, this versatile product will mold a room of classic beauty.
Using a terrazzo look as opposed to the true natural stone makes for a quicker installation, as well as less maintenance. The Frammenti Collection from Tiles Direct features three large-speckled terrazzo colors (white, gray and black) in a modern porcelain format. Frammenti will enhance the architecture of the space creating a mood that is constantly evolving.
To view all of Tiles Direct's terrazzo-look tiles, click here.
3. Bringing Back Vintage Using Encaustic-Look Tiles
Form Ice Compass Deco 8"x8" Matte
As history usually repeats itself, one trend seen since the beginning of tile manufacturing is the use of encaustic tiles. True cement encaustic tiles are made up of at least two – all the way up to six - colors of clay that comprise both the design and the body of the tile. The result is a bold, unique pattern with a hand-made effect. When using natural products such as stone, cement, and bricks, sealing the product a minimum of every two years is crucial in the longevity of performance.
Modern upgrades in tile manufacturing allow us to get the look of encaustic tile in a more durable porcelain format with no sealing required! There are so many different styles and colors to choose from in the realm of encaustic-look tile. From modern to traditional motifs these intricately-designed tiles can give your space a high-fashion, designer look without the hassle. A perfect example of this is the Form Collection combining curated patterns and unique formats that work together to inspire creative spaces.
For more encaustic-look tiles from Tiles Direct, click here.
4. Colors Inspired by Nature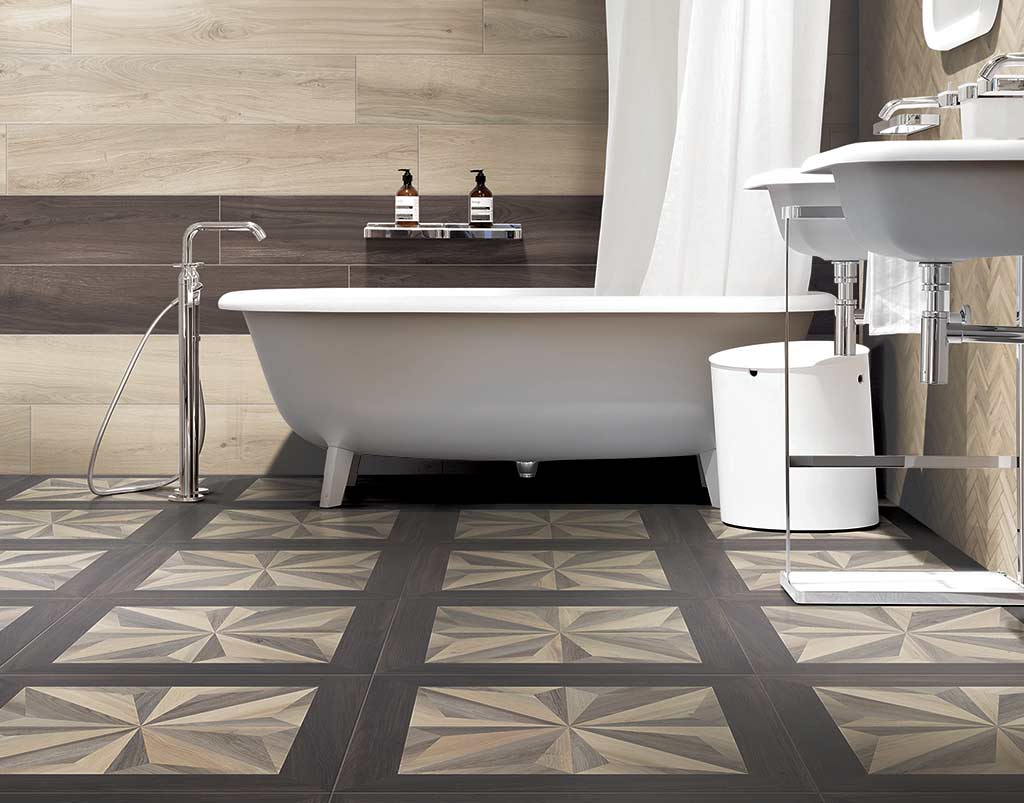 WALLS: Mood Wood Honey / Brown 8"x48" Matte from Tiles Direct.
FLOORS: Mood Wood Honey / Nut / Brown Décor 3 24"x24" Matte from Tiles Direct.
Interior inspirations of today are shifting toward a more organic approach when it comes to remodeling. With the pace of the world taking slower strides, a want for recharging and relaxing at home is surging.
Channel the calm and beauty of the outdoors with interior color schemes that take their cues from nature. These palettes combine fresh greens, watery blues, warm earth tones, and sunset yellows to create beautiful nature-inspired color schemes.
Thanks to recent advancements in tile technology, incorporating natural wood-looks, stone-looks, and concrete-look tiles give designs an a more in-tune feel with nature, with the simple maintenance of a porcelain or ceramic format. Using a wood-effect porcelain tile allows for the serene installation of wood in areas you never thought possible – such as the bathroom. The Mood Wood Collection features five popular natural-wood inspired designs with coordinating parquet designs that will leave your space feeling warm and organic.
For all wood-look collection from Tiles Direct, click here.
5. Bigger is Better with Large Format Tiles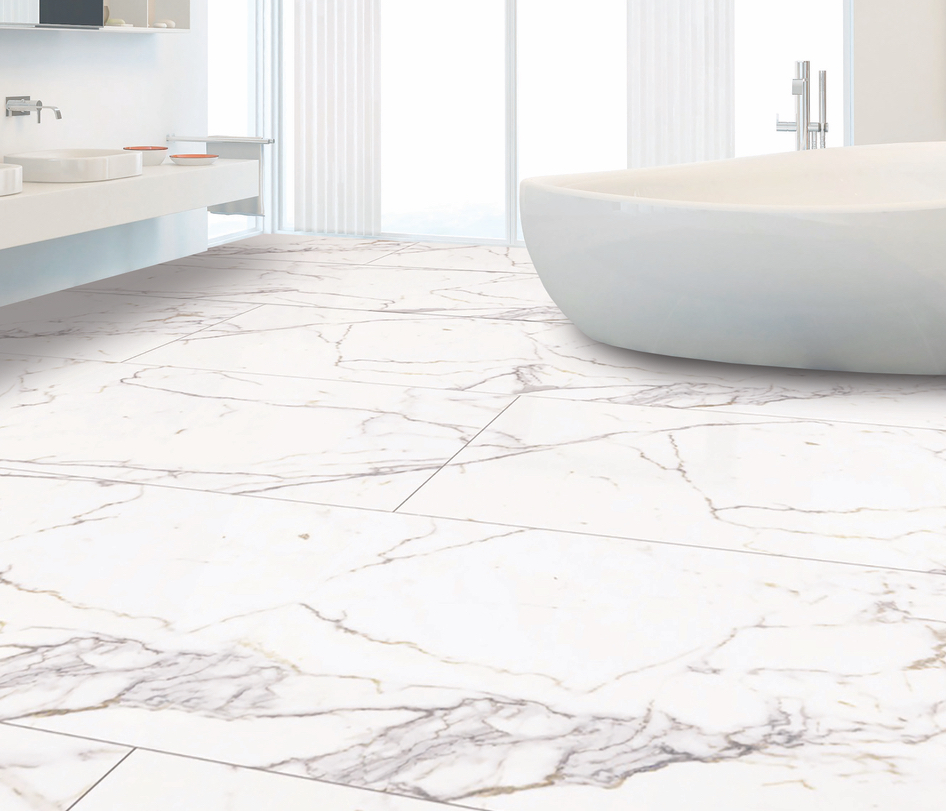 Cassini Carrara 24"x48" Matte from Tiles Direct.
"Bigger is always better," reigns true in terms of the large format tile trend that has been making waves over the last several years. The use of large format tiles creates an illusion of true-look marble and other natural stones slabs, without the heavy maintenance. The Cassini Collection from Tiles Direct exudes an authentic feel of Carrara marble thanks to it's sturdy and desirable 24"x48" size in the easy-care format of porcelain.
When large format tiles are installed horizontally, fewer grout joints are needed, giving the appearance of a wider and more spacious room. Large format tiles create continuity throughout the home, making it easier to bring your designs together in unity. Shopping for a specific look that fits your large format needs? Click here.
Tiles Direct has all your tile needs to keep up with today's hottest trends. For more information on our tile selection or if you have any questions about which of our options is best for you, call us up at 407-730-0025 or reach out on our social media platforms @TilesDirect_USA and we will be happy to answer your questions.