There's more to tile than the same basic patterns and qualities you've come to expect. If you are in the process of remodeling your home and you aren't inspired when it comes to installing brand new tile, you might need a touch of the unexpected.
Tile doesn't have to be all white squares and rectangles. In fact, if you search through the right high-quality tile stores you will find it easier than you think to put together an artistic vision for your home improvement project that includes beautiful and unique varieties of tile that are just as practical, if not more so, than the same basic tiles you're used to seeing everywhere.
Installing tile doesn't have to be this drab utilitarian experience if you keep an open mind and think about the possibilities you have when it comes to designing the kitchen or bathroom of your dreams. From gorgeous marbling to intriguing mosaic patterns, there are near limitless ways in which tile can be used to greatly enhance the artistic value of a space while still providing much-needed functionality.
If you're looking for a bit of remodeling inspiration, this guide will help show you some of the possibilities for crafting an interesting or unique tile design in your home.
Exploring the Aesthetic Applications of Tile
Just because tiles serve a wide range of practical purposes doesn't mean they can't be artistic as well. While the assumption is that tiles are either practical or pretty, they can indeed be both. You can have your cake and eat it too if you know where to look when purchasing tile. Here at Tiles Direct, for instance, we have an incredible selection of tile that is both aesthetically pleasing and perfectly functional.
Throughout history, tiles have been used in a variety of artistic ways and we believe that you can achieve this same artistry in your own home today while still taking advantage of the practical aspects of tile, all without paying a fortune. For example, natural stone such as marble has traditionally been a poor choice as shower or bathroom floor tiling simply because of the high presence of moisture. However, there are now incredible porcelain and ceramic tile options that are indistinguishable from marble, and which can easily be installed in your shower without the need for concern over staining.
Tile doesn't have to just uniformly blanket a wall but rather can be implemented in such a way that it creates inventive patterns, mosaics, and even attractive gradients. You can even mix and match different styles of tile for wholly unique looks that you'll never find advertised in a catalog. This is why you need to shop at tile stores with a robust selection that will help you craft an aesthetic vision of your own instead of relying on the same old thing everyone else is doing.
Unlike other elements of your home, you can truly be uniquely creative with tile. You typically don't have as much leeway with wood flooring or paneling, for example, if you want to create artistic embellishments or go with something more colorful. Ordinary drywall of course rarely provides as much artistic license as tile offers, nor does carpeting.
When you take a look at all of the different options you have for crafting a stunning and unique look in your kitchen, bathroom, or anywhere else in your home, tile seems to be the obvious choice. The sheer amount of different materials you have to work with as well as the range of colors, shapes, and styles, allows you the perfect opportunity to infuse a little character into a space rather than limiting yourself to other more common options.
Mosaic Tiles
One of the most interesting tile options that is gaining in popularity due to its artistic versatility, mosaic tiles come in all shapes and sizes, from tumbled marble to varying colors of glass, ceramic, and porcelain. In fact, you can create a mosaic design out of any variety of traditional tile merely by substituting individual tiles with similar ones of a differing color.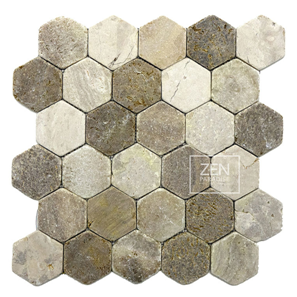 This motif can be used to create elegant mosaic tile flooring, shower walls, and even kitchen backsplashes. You can be as creative as you allow yourself to be, and it's not at all difficult to create a mosaic design come to life. All you need is a few tiles of a different style to interrupt the pattern of your wall or floor and you will create an amazing effect with little effort.
Mosaic tile designs are just as practical as traditional solid colors and patterns of tile, which means you lose absolutely nothing by experimenting with such designs in order to help bring your living space to life.
One increasingly popular design trend is the use of hexagonal mosaic tiles, which can be used as flooring, walls, or backsplashes and comes in a variety of materials such as porcelain, natural stone and glass. You can find gorgeous tile options such as this right here in our store, along with dozens of other options that are ideal for creating unique mosaic designs. The beauty of these kinds of designs is that rarely are two projects ever alike. Due to the variances of the tile, you're always going to come out with a look that's uniquely yours, rather than something generic pulled from a catalog or in a department store.
Gradient Designs
Another tile trend that is taking off is the use of tile gradients, which can create stunning effects for your home when implemented properly. In essence, a gradient design takes two distinct kinds of tile and utilizes them in two areas of a room, where they will eventually meet in a specific area and appear as if they are combining through careful use of specific tiles.
Though much more difficult to pull off than a simple mosaic design, gradients are becoming popular flooring options that allow you to create interesting ways of dividing rooms or spaces within rooms without the use of rugs or other materials. Tile gradients are also popular in showers and backsplashes.
When you shop at the right tile stores that provide a wide range of options and designs, you are much freer to create the look you want rather than one that you have to settle on. Here at Tiles Direct, we know that quality and selection are everything, which is why our online store is bursting with unique tile options that will let you be as creative as you want without sacrificing on quality.
Tile With Special Properties
While the aesthetic qualities of tile may be one of the big draws for you, perhaps you're also looking for tile that excels in one special area or another. Maybe you are searching for tile that is particularly water-resistant or that works best around a fireplace, or even as a segment of pure wall decoration that completely lacks a practical purpose entirely.
Just as tile comes in a staggering variety of styles, it also has a litany of unique physical properties that make certain materials suitable for some tasks and others suitable for entirely different purposes. Here we will take a look at just a few of these special properties.
Acoustics
Some tile is better suited to absorb and diffuse sound than others. Other kinds of tile can be used to bounce sound around and create more of an echoing effect. This is one of the reasons why bathrooms have such unique acoustics because it's largely due to the presence of porcelain or ceramic tiles that bounce sound rather than diffusing it.
Fireplace Mantle
Some varieties of tile, such as ceramics, are extremely fire resistant and make perfect accents for the area around your fireplace or even the mantle itself. The surround, as well as the walls around the entire fireplace, make the perfect places for artistic tile designs in your living or family room, while also serving a practical purpose with their natural heat resistance.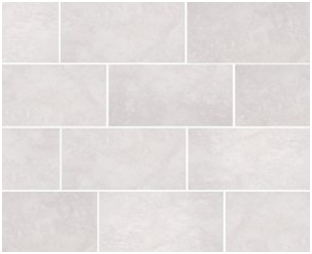 Maybe you are simply interested in a highly durable tile that will hold up through years of rigorous use and still look as attractive and clean as the day you bought it, with minimal upkeep. This describes porcelain and ceramic tile perfectly. There is a reason why these tough tile options are so common in high traffic areas of our homes. Durable ceramic tile won't damage easily, which means the likelihood of needing replacement tiles is slim to none if you look after the tile properly.
Tile Rug
What if you wanted an area of your floor to look like a rug, but didn't actually want a rug? The answer is installing a tile rug, which is essentially a rectangular area of your floor that is crafted from a different variety of tile than the rest.
Perhaps you want a beige tile floor with a shocking cerulean or obsidian rectangle to dominate the center of the room where your table is going to go. There are a number of different ways you can use this idea to create a unique design that will certainly stand out.
Wall Decoration
A purely decorative space on your wall crafted from tile? It's certainly possible, but to really create a certain desired effect, you should think about what you want out of a surface such as this. Maybe you want reflective tile that will shine and bounce light off its surface? You could also create an artistic mosaic, not unlike an abstract painting.
Tile That Looks Like Wood
There's no question that wood flooring looks amazing, but what if you could achieve that same beautiful look without any sanding or staining? This is actually one of the latest trends and can really bring a room to life like never before. These high-quality porcelain tiles look almost identical to real wood while giving you all the durability and easy maintenance of tile.
With tiles that give off the appearance of wood paneling, you can create unique looks where you otherwise wouldn't think of placing wood, such as in the shower or as an attractive kitchen backsplash.
Porcelain tile is highly adaptable and can be made to look like a variety of different materials, including marble, sandstone, and slate. Because porcelain tile is also extremely durable and easy to clean, it provides you with a staggering array of home improvement possibilities. You can utilize these stylized porcelain tiles anywhere in your home in order to create just the look and feel you want.
Discover More Unique Tile Options in Our Online Store
Considering just how many different styles and varieties of tile there are, it's important to know where you can get just what you're looking for in the quality you need. For the best in tile options, you can easily take a look in our store here at Tiles Direct and take advantage of our wide selection full of high-quality exquisitely designed tiles.
You don't have to settle for the same old designs when you have a tile store that can meet all of your needs and exceed your expectations. Not only do we carry a massive selection of great tile options, but our tile is quite affordable as well. There's no reason your ideas should be limited by your budget when you can obtain incredibly beautiful and affordable tiles right here in our store.
We are dedicated to helping you bring your vision to life, so if you have any questions for us, we want you to reach out so we can help you make your purchase. When you are thinking about how to truly enhance your home and give it a more artistic feel, the right tile design can make the statement you want. For assistance with selecting the proper tile for your project or with general questions regarding payment options or shipping of your tile, you can reach out to our team at 407-730-0025 and we will happily assist you.