Beautiful as well as practical, tile can be used as a means of enhancing just about any space in your home. From long-lasting flooring options that hold up under extensive wear to attractive shower components that protect your walls from water damage, tile simply has no equal when it comes to important roles in your home.
One style of tile in particular stands out not only for its classic look but a wide range of versatility. Subway tile is a ubiquitous facet of many homes and offices throughout the world, prized for its clean and balanced appearance while also being highly functional. These tiles can be arranged into as simple or as complex a pattern as you like, are typically easy to clean and maintain, and can be used to highlight other architectural or decor elements or can stand out on their own with a few ingenious techniques.
The key to getting the most out of subway tile is not to limit yourself to the same traditional design that you are used to seeing everywhere. While the white "brick" pattern is a reliable mainstay that's also minimalist and stylish in its own right, you can easily expand on the basic principles of this design convention and create a truly unique look that will transform your kitchen or bathroom.
This helpful guide will detail some of the interesting ways you can use subway tile in your home, including how to create stylish patterns, matching colored tiles to decor elements, beautiful backsplash ideas, and more. If you have been searching for a remedy for a boring bathroom or a way to improve the aesthetics of your kitchen, these tips and techniques will make a difference.
Diagonal Tile Patterning
While the traditional "brick" pattern that the subway look is known for is always in style, you can put together a more dynamic pattern simply by making a few adjustments. By tilting the angle at which you lay the tile, you can create a variety of unique and unexpected looks that would liven up your kitchen or bathroom.
The diagonal look can be used to make spaces feel larger and more open than they really are. The lack of straight vertical lines immediately makes any space feel more expansive, and even somewhat post-modern. If you want to experiment with the implementation of your new tile but don't want to stray too far from the classic look of subway tile, the diagonal look may work for you.
Achieve Attractive Gradients
Have you ever thought about adding a gradient to your tile layout? Depending on the kind of tile you are choosing and the selection that's available to you, this may be the option you are looking for to create a distinct look that's not overdone and still retains the essence of the subway tile style.
You achieve this look by utilizing tiles of the same dimensions and material, but that differ somewhat in color. Perhaps a sandy beige that gives way to a pearly white, or obsidian tiles that work from slate to grey. A two-tone gradient is also an option if you get creative in the way in which you blend the tiles.
Regardless of the kind of gradient style that you choose, this design convention can be used throughout your home to create a stunning and artistic look that's decidedly unique. One of the primary appeals of creating tile gradients is that you can truly create a pattern that's wholly unique to your home, depending on how you lay the individual tiles. You could go with a smooth gradient that transitions slowly from one color to another or create a harsh breakup by peppering the lighter color with the dark and then implementing an abrupt transition.
The decision as to how to go about it is entirely up to you. While it's not very often that you see subway tiles specifically used for gradient designs, that doesn't mean they aren't suited for the task. Here at Tiles Direct, we carry an ample selection of different colored subway tiles that may help you create a beautiful gradient that will really make any space in your home stand out.
Add More Color
Speaking of color, this is where you might want to leave your conventional tile ideas at the door and try something fresh and new. Have you considered experimenting with something other than the classic porcelain white for your subway tile layout?
There are hundreds of different colors, mixes, and marbled patterns available that can help you create more visual interest in your home. From pastels and creams to different natural stone color variants, you can put together a colorful bathroom or eye-catching backsplash with ease. If you would prefer not to fill an entire wall with color, you could even try using only a few differently colored tiles sprinkled throughout, or set at one extreme at the edge of a wall
You can also use these bits of color to match your decor. If you already have a running theme, perhaps beige or pastel pink floral accents on your dining room or kitchen furniture, you could enhance this look by peppering a few similarly colored tiles in your new backsplash or floor. While a whole wall of a certain pastel shade may seem imposing or too off-putting, you can certainly use colored subway tiles to enhance your design if you use a bit of design sense.
Subway Tile Backsplash to The Ceiling
Backsplashes are functional and attractive aspects of any kitchen or bathroom, but why stop there? Depending on the layout of the room in question, you may want to consider laying tile from your sink all the way to the ceiling. This trendy and sleek look is not only fairly easy to implement, but it also has plenty of practical applications as well.
By placing tile on the entire wall behind your sink and other appliances, you can help the room to feel larger and more stately. The full tile wall in your kitchen gives off a refined and modern appearance and can be used to highlight certain features of the room, such as certain cabinets or decor items.
This is one instance where classic white subway tile might be the way to go. Elegant and minimalist white tile bricks placed from sink to ceiling will not only brighten up your kitchen space, but it will also make cleaning that area of your kitchen a breeze.
Create Dynamic Contrast With Your Tile
There are dozens of ways you can create contrast between different types of tile for an immediately eye-catching look that is above the ordinary. You may not even need two different styles of tile to accomplish a dynamic look but it certainly helps.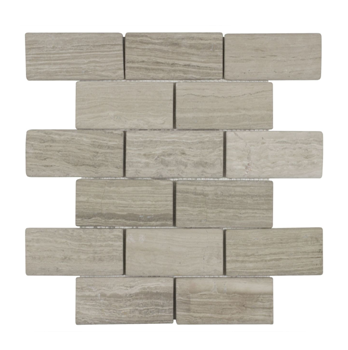 One simple way to create an interesting contrast is to lay tiles diagonally along the top half of a room and meet them in the middle with a traditional horizontal layout. You could also separate these with a line of smaller accent tiles.
Another way to create contrast is through the use of varying textures. We carry several textured subway tiles right here in our store that you could use for one area of your kitchen or bathroom, which you could then pair with a classic smooth tile pattern beside it. Alternatively, you can intersperse textured tiles throughout a smooth tile layout for an ornate and appealing look.
Contrast can also be generated by the use of color. White and black tiles are an obvious example of this, and a timeless design convention that has been used all over the world for centuries. The checkered black and white style dates back all the way to ancient Egypt and is a universal way to create a dynamic and engaging look.
You don't have to limit yourself just to black and white tiles, however. For instance, one way to create powerful contrast is through dark grout lines between white tile, which can create a dramatic and modernistic aura for your bathroom. You could also select a bold earth tone and pair it with white or sandstone-colored tiles for a natural and appealing feel.
One of the keys to crafting a stylish tile arrangement is through visual interest. You want something that will naturally draw the eye from place to place rather than relying on one element or pattern to carry the whole design. When it comes to putting together a truly dynamic tile layout, creating this kind of visual interest is relatively easy given the variety of tile styles and colors from which to choose.
When you are formulating ideas for your home improvement project, you can take advantage of any of these techniques and even mix and match them for dramatic effects. Try creating an attractive herringbone pattern with alternating colors, or diagonally placed tiles with a muted gradient.
It's also important to keep in mind how your tile can enhance your decor and architectural accents throughout your kitchen, bathroom, or other areas of your home where you may want to utilize tile. Think about the prevailing colors and textures that are present in your furniture as well as the overall tone and atmosphere of your home. If you have a light tone throughout with pastels and whites, delicately crafted whitewashed furniture, and floral motifs, you may want to stay away from bold black and white checkered patterns or anything that would detract from the theme you are trying to generate.
With planning and the right high-quality subway tile, you can bring a bit of excitement and artistry into any space using these techniques.
Finding The Perfect Tile to Create The Styles You Want
In order to execute some of the techniques we outlined in this guide and create beautifully unique tile arrangements that will truly stand out and create the look you want, you need to start with the proper foundation: a great selection of great quality tile.
Here at Tiles Direct, we offer a sizable selection of tile to suit your needs, from sturdy ceramics to stunning porcelain, all in the colors, textures, and sizes you need for your project. No matter how ambitious your tile design is shaping up to be, we have the selection you are looking for.
When you are planning out your project and ideas are starting to form that you know would look amazing, you don't want to be stymied by a lack of great tile. Having to deal with a limited selection or with tile that just doesn't capture your vision is not an ideal situation, to say the least, and can be completely avoided if you know where to shop.
Rather than searching high and low for tile that suits your needs, you can shop here right at our online tile store, where you will find a wide variety of beautiful tiles that will help you put together an attractive and functional design. We carry subway style tiles in porcelain, ceramic, glass, and even composite materials, all at extremely affordable prices that will make your project a worthwhile and easy investment for your home.
Customer satisfaction is paramount for us, so if at any time you have questions about the kinds of tiles we offer and which ones would suit your project the best, we would enjoy hearing from you so we could help address your concerns. Here at Tiles Direct, we make it as easy as possible to find the exact kinds of tile you are looking for so you can enhance your home in style. For more information on our tile selection or if you have any questions about which of our options is best for you, call us up at 407-730-0025 and we will be happy to answer your questions.