Wood flooring now comes in so many different styles and types that it's hard to determine which one is right for you. After looking at the cost of those floors and the problems associated with wood flooring, you might decide that it isn't the right choice for you. With the wood tiles now on the market, you can combine your love of wood and tile in any room of your house. These tiles combine the look of hardwood floorboards with the durability and dependability of tiled floors.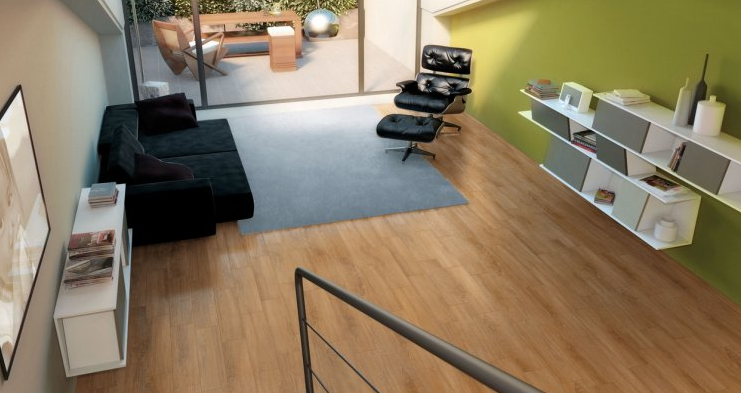 What are Wood Tiles?
When you first hear the term, you might think about tiles made from wood, but that isn't what the term actually means. These are tiles made from porcelain with a finish that resembles wood floorboards. Some manufacturers use a complicated process that involves gluing smaller and thinner sheets of wood together, slicing those sheets into thinner pieces and carefully affixing the sheet to the surface of the porcelain. Other designers add a thin piece of solid wood veneer to the top of the porcelain, and some manufacturers use colors and stains mixed into the porcelain to create the look of wood.
Why Choose Porcelain?
Wood and porcelain tiles have a number of benefits over traditional wood floors. Wood floors require regular maintenance and sealing, and those floors can suffer damage from people walking through your house, your pets running loose or even from the furniture that you move and rearrange around your house. The combination of wood and porcelain is much stronger, and it works well in humid climates where wood floors can bend or warp. The manufacturers behind these tiles can cut the pieces into different planks and boards to fit any size room in your home.
Maintaining Porcelain Tiles
With hardwood floors, you need to use special cleaners, sand and buff out scratches and other types of damage or hire an expert to reseal the wood on a regular basis. Cleaning and maintaining porcelain and wood tiled floors is much easier. You'll find some great cleaners available right here on Tiles Direct that will remove minor stains without damaging the wood veneer or leaving behind any discolorations or stains. You can also find cleansers suitable for wood and porcelain tiles from home improvement stores. Wiping up spills as soon as an accident occurs and sweeping the floors at least once a week can go a long way towards maintaining your tiles.
Choosing Your Tiles
One of the first decisions you need to make is about the color of the tiles that you want. These tiles now come in nearly every type of hardwood finish, including walnut, cherry, birch and chestnut. After selecting a color, think about the style you hope to achieve. Modular panels have a more modern look while planks have a rustic or traditional feel. Once you decide on the tiles that are right for you and install those tiles in your home, not a single visitor will know that your hardwood floors are actually wood tiles.