Just because you're searching for affordable tile doesn't mean you have to sacrifice quality or stick with plain-looking tile options. Discount tile flooring can be just as trendy and stylish as you need it to be if you know where to look. Here at Tiles Direct, we have hundreds of beautiful styles of tile to suit any room in your home.
Having a reliable source to shop for your tile is important if you want access to the best possible selection and prices that work easily into your budget. If you're specifically looking for a way to spice up your home with a unique and artful flooring design, you should be able to find what you need without any hassle. Don't let cost get in the way of your creativity or intentions for your home.
In terms of finding the tile that's right for you and your home renovation project, you need to know your options in order to make the best possible decision. This guide will outline some of the different styles of tile that you may want to consider when designing your new kitchen, bathroom, or other space in your home. Rather than going with the same old conventional options, you will find that tile affords a great deal of room for ingenious and stylish looks if you know which direction you want to take.
Embrace Porcelain and Ceramic Tile
Porcelain and ceramic tile are popular tile flooring options and have been for quite some time. They are loved for their durability, versatility, and general longevity. For homeowners looking for a reliable and practical solution for a flooring project, you can't really go wrong with these two types of tile.
What you may not know is that ceramic and porcelain come in a wide variety of different shapes and styles and that you don't have to opt for basic-looking tile if you are searching for an affordable and practical option. In fact, artistic innovations have allowed for a truly impressive number of different looks that you can achieve with these seemingly common materials.
You might assume that porcelain and ceramic floor tiles come in a few basic colors such as white and black and that these aren't really what you would consider looking at if "style" was something you had in mind for your kitchen or bathroom. However, this couldn't be further from the truth, as porcelain and ceramic tiles have been adapted to fit just about any home design and need you can imagine.
No matter how traditional or exotic the look you are going for is, there is a high likelihood that you will be able to make your vision come to life with either porcelain or ceramic varieties. You can craft a bathroom floor that appears as if it was hewn from a solid chunk of obsidian marble, or build an attractive kitchen design that gives your floor the illusion of rugged sandstone or slate.
These looks and more are not only possible with porcelain and ceramic tile, they are quite a bit more affordable than the real thing as well. These tiles come with several distinct advantages, on top of being more in line with your budget. The first of these being that they are fairly easy to install compared to several varieties of natural stone, and second, they are also easier to maintain as well. Because they are not porous, you don't have to concern yourself with staining or other issues, you simply have to keep after them with a simple cleaning routine and they will last you for a lifetime.
If you take a look through our store right here at Tiles Direct, you will find a plethora of beautiful porcelain and ceramic tiles that definitely don't fit the mold you're probably used to. We have tiles that mimic the appearance of marble and other natural stone materials, as well as various wood grains and other materials as well. If you want a unique and stylish look for your home, you can certainly pull it off with the tile in our catalog.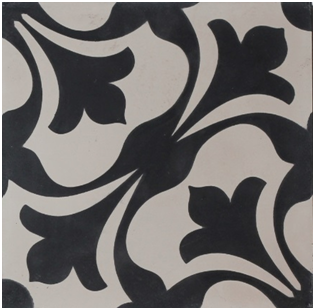 Experiment With Cement Tile Flooring
Cement tiles offer an alternative for homeowners looking for something traditional and artful. These tiles have a matte appearance and come in thousands of different colors and patterns. This is possible because cement tiles can be individualized with custom patterns and use of certain pigments. Naturally, you can expect the costs to rise somewhat if your tile is completely customized, but reliable tile outlets like ours carry several styles to choose from at a great price.
As far as kitchen and bathroom flooring is concerned, cement tiles make an interesting option. While you do want to keep in mind that cement tiles are slightly porous, they are plenty resistant to spills and staining if treated and sealed properly. The beautiful thing about these tiles is that they do infuse any space with a certain artful quality that is difficult to reproduce in other styles of tile. Even porcelain reproductions, while attractive in their own right, don't quite capture the same matte look and feel as authentic cement tiles do, which gives them a certain benefit.
They make for a high-quality and versatile option simply because of the wide range of designs that can be implemented through changing patterns and pigments. Cement tiles are created using a mold, and pigments can be added at will to develop unique looks that will be exclusive to your home. You can certainly let your imagination run wild when it comes to cement tile, as it can be crafted to match specific decor elements or themes within your home. This is something that other varieties of tile cannot offer, which means if you are searching for a distinctly special design convention in your tile that you can't seem to find anywhere else, this is where you want to look.
Depending on the color of your kitchen or bathroom walls or decor, it's fairly easy to use cement tile to match and complement the best aspects of your home to create a seamless design. We carry an array of beautiful cement tiles here in our online store that are suitable for a wide range of home styles, from simple designs to elaborate floral patterns and everything in between. Cement is the perfect option if you favor artistry over pure practicality and want to craft a space in your home that emphasizes simple beauty.
Create a Unique Look With Hexagon Tiles
For something different, you can try implementing hexagonal tiles for your kitchen or bathroom floor. This tile design is exploding in popularity in recent years for its immediately recognizable and eye-catching look that is modern and undeniably stylish.
The main benefit of going with this flooring option in particular is simply in having the ability to create a variety of unique patterns and mosaics with different colors or tones. It's easy to play around with different combinations of hexagonal tiles to create artful looks that would be difficult to create the same way with other varieties of tile.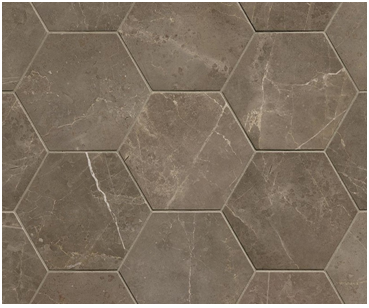 Hexagonal tiles can easily enhance any space and can be used to complement your kitchen and bathroom in many creative and artful ways. They work especially well around other geometric decor items and minimalist arrangements for a sleek yet refined appearance. These unique tiles are a great option if you are thinking of implementing any kind of gradient pattern as well.
The Painted Brick Look
Want to create a weathered and old-world look with ease? You can find a wide range of different brick style tiles to use as flooring that will allow you to create an atmospheric look anywhere in your home. This technique works especially well with several of our tile options that appear like worn stone.
The painted brick look can completely change the way your home feels, giving it a rich and stately atmosphere. This style is also highly adaptable and can be changed how you see fit to create unique and stunning designs, such as mosaics, floor gradients, and various patterns. Choosing a primary color or design to work with and then peppering in a few off-color or slightly darker and lighter tiles can create the appearance of naturally worn bricks that have been periodically replaced over time, for a rustic and timeless look that will stand out.
Where to Find High-Quality Discount Tile Flooring For Your Home
If you are interested in these kinds of stylish tile designs for your home, you need to have access to a wide selection of high-quality options that also fit your budget. That last point is important because, during the course of a home renovation or tile project, costs can add up fast, especially if you are tiling an entire room. You want to make sure that you have a reliable source for all of your tile needs.
When it comes to finding great discount tile flooring options, you don't want to be stuck with a mediocre selection that forces you to pick a style or design you don't want, or that leaves you feeling like you could have tried something better. Here at Tiles Direct, we provide an incredible selection of tile that is sure to fit any home design or particular need. Not only will you likely find specific tiles that suit your home in our collection, but you will be able to fit them neatly into your budget.
Whether you feel pulled toward one of our design ideas from above or have something else in mind to transform your home, you should be able to choose the exact kind of tile you need without worrying too much about the cost or finding that one specific kind of tile that will fit your home. With our generous selection of high-quality tile and incredible prices, you will be able to address the needs of your home and create a truly stunning design.
No matter what your project entails, you should be able to infuse your own personality and creativity into your home through the tile you select. This is one of the most incredible aspects of tile as a whole, as it affords a great deal of flexibility and artistic freedom that very few other flooring options allow for. Given the sheer variety of different kinds of tile and the ways in which you may use them to form unique patterns, you can truly add a substantial amount of value to your home with something as simple as the right tile investment.
There's no reason to limit yourself when it comes to the tile you want. When you need an attractive tile that comes in a wide variety of different materials and styles, you can count on Tiles Direct. We have everything you could need in terms of specialized tile options with which you can transform your home, from the latest trends to elegant traditional options and hundreds of other choices as well. No matter how simplistic or distinguished you want your home to be, you can use our tile to make it happen.
If you have any questions regarding our different discount tile flooring options and would like to know more about which style or material would be right for your home, you can reach out to us at 407-730-0025 and we will be happy to speak with you and help you find what you need. Not only do we specialize in affordable and attractive tile, but we are also experts in the industry and can help guide you toward the perfect purchase through our years of collective experience. Don't hesitate to contact us if you need a stylish and impactful flooring option that you won't be able to take your eyes off of.